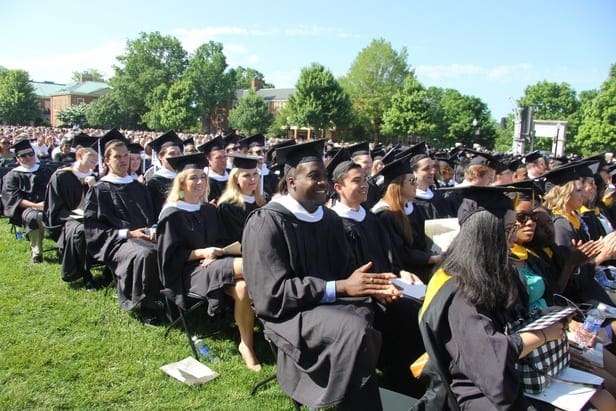 Graduate and undergraduate students celebrated at events May 16-18
 WINSTON-SALEM, N.C., MAY 20, 2015 – Wake Forest University School of Business congratulates the 513 master's and 255 bachelor's degree recipients who were recognized during the Wake Forest University Commencement on May 18, 2015.
School of Business master's degree recipients were also honored at a hooding ceremony Sunday, May 17 in Wait Chapel. Holders of a master's degree wear a symbolic hood draped around the neck and over the shoulders, displayed down the back with the lining exposed. The hood identifies the level of degree, the field of learning and the awarding institution.
This year's graduate business students who were invested with the hood include: 138 in the Master of Arts in Management program, 178 in the Master of Science in Accountancy program, 46 in the Full-Time MBA program, 37 in the Winston-Salem Evening MBA program, 55 in the Charlotte Evening MBA program and 44 in the Charlotte Saturday MBA program. Fifteen graduates received joint degrees as part of programs offered with other Wake Forest schools: 11 with the School of Law (JD/MBA), three with the Graduate School of Arts and Sciences, (PhD/MBA) and one with the School of Medicine (MD/MBA).
Carlos Brito, CEO of Anheuser-Busch InBev, told the graduate students to dream big during his hooding ceremony keynote. "Dreaming big or dreaming small, it takes the same amount of energy, so why not dream big? Big dreams inspire all of us to go above and beyond what everyone else thinks is feasible. A big dream gets all of us to be the best we can be. It challenges us to go beyond our horizons and outside of our comfort zone."
Charles Iacovou, Dean of the School of Business congratulated the graduates. "We know you have worked very hard to be professional, impactful, honorable, and global leaders you are today, and we are excited for you to go on and make a difference in the marketplace."
The entire hooding ceremony may be viewed on-demand at http://livestream.com/wfu/2015wfusb.
Students receiving class Leadership Awards for outstanding scholastic performance and integrity were:  Briana Christine Agatep (Full-time MBA), Douglas Young Foutz (Winston-Salem Evening MBA), Christopher Warren Hood (Winston-Salem Evening MBA), Adrian Russell Wilkinson (Winston-Salem Evening MBA), Mary Sherrill Ware (Charlotte Evening MBA), Brian Charles Kay (Charlotte Saturday MBA), Kelly Rachelle Starnes (Charlotte Saturday MBA), Amber Lynn Ridings (MS in Accountancy) and Jordan Timothy Garside (MA in Management).
Other honorees included: Christopher Paul Brown, Stephen B. Tips Award for Outstanding Character; Matthias Rau, Luther Award; Genevieve Marie Holland, Andrea Mitchell Metzler Award; Charles Berkeley Wilson III, Patel Prize in Finance; Michael Collins Bruschi, Finance Award; Nicholas Matthew Tankersley, Entrepreneurship Award; Laura Meredith Bondel, Marketing Award; Christopher Paul Brown, Operations Management Award; Christopher Michael Dorsch, Business Analytics Award, Torin Joseph Martinez, General Management Award; Ryan Anthony Hanson and Robert Gwinn Schaaf, Robert N. White Award; Dhana Michelle Meyrowitz, Federation of Schools of Accountancy Achievement Award; Olivia Christine Nastasi, Outstanding Graduate Award – Transaction Services; Mary Katherine Schronce, Outstanding Graduate Award – Tax Consulting; Sarah Elizabeth Compton, Outstanding Graduate Award – Assurance Services; Ethan Oliver Todd, Scarritt Family Pro Humanitate Award;  Adjoa Owusah Boateng, Ryan Robert Dougherty, Collin Christopher Granger, and Xuejiao Wang, Action Learning Project Excellence Award; Caroline Elizabeth Wayco, Delmer P. Hylton Accountancy Award; Christine Therese Briere, Mathematical Business Award and the Spirit of Wayne Calloway Award;  Stephanie Kaylin Hom, Lura Baker Paden Award; and Colin Mark Egan, Finance Award.
Bachelor of Science degrees were awarded to 255 School of Business students with majors in Accountancy, Business and Enterprise Management, Finance and Mathematical Business during the Wake Forest University Commencement ceremony on May 18. The event featured comedian Stephen Colbert, who may be best known as the host of The Colbert Report, as speaker. He will begin his new role as host of the CBS Late Show with Stephen Colbert on September 8, after the retirement of David Letterman.
Media contact: Stephanie Skordas, skordas@wfu.edu or 336.758.4098.