The Wake Forest MBA Curriculum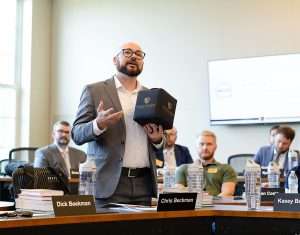 The Wake Forest MBA curriculum is designed to provide you with the ability to approach and analyze challenges from a wide range of perspectives in order to achieve holistic solutions. The cohort/team-based approach to the Wake Forest MBA means that all members of an entering class will graduate together at the conclusion of the program while learning supportively from each other throughout the program.
The Wake Forest MBA program's lockstep curriculum emphasizes broad-based leadership and management skills that are both strategic and global, while integrating the spectrum of functional areas to deepen your knowledge across disciplines, including finance, operations, marketing, entrepreneurship, and information technology. To add to your skill set, you can choose electives to hone your interests and further define your career path.
Elective courses provide students opportunities to complement their well-rounded business acumen with additional depth, breadth, and application in subject areas of interest. These courses can round out a student's skills, cultivate new areas of expertise, facilitate career advancement, and support efforts to pivot to a new role, company, or industry.
Optional concentrations are available in Business Analytics, Strategy and Leadership, Finance, Project Management, and Digital Marketing. Students may also choose to earn a general MBA by selecting a combination of elective courses best aligned with their interests and goals. Students have the flexibility to take elective courses offered in in-person, hybrid, and online formats.

Core MBA Courses (36 Credits)
Concentrations or Electives (9 Credits)
Choose one of the following optional concentrations. Or you can customize your degree plan by selecting any of the online Master of Business Administration courses from across the concentration areas.
Business Analytics Concentration
A concentration in Business Analytics puts the working professional student in a position to develop the strengths needed to serve as a data translator inside of their organization while also being prepared to collaborate effectively with the Analytics professionals across the enterprise. These courses, by design, are offered online and asynchronously.
Finance Concentration
Managers at every level in every organization benefit from understanding the financial health and performance of their business. A concentration in Finance develops the knowledge, skills, and abilities to address complex financial decisions, manage risk, analyze investments, and maximize shareholder value.
Strategy and Leadership Concentration
A common goal for Wake MBA students is to accelerate their careers and move into positions of greater responsibility, scope and leadership. The Strategy & Leadership concentration cultivates management skills by further developing strategic decision making, negotiation, and change leadership for those with an eye on the C-suite.
Digital Marketing Concentration
With the increasing reliance on digital platforms and technology, businesses across every industry are seeking professionals who possess the skills and knowledge to navigate the complexities of the online marketplace. A Digital Marketing concentration equips MBA students with the tools to leverage digital channels effectively, analyze consumer data, and develop targeted marketing strategies making them invaluable assets to their organizations
Students complete 9 credit hours from the 12 hours listed below
Project Management Concentration
In today's fast-paced and complex business environment, project management skills are highly sought after and transcend industry boundaries. A Project Management concentration equips MBA students with the knowledge and tools to plan, execute, and monitor projects efficiently, fostering a strategic mindset and leadership abilities that enhance your ability to drive results and deliver value in any professional setting.
Students complete 9 credit hours from the 12 hours listed below