Major in Business at Wake Forest University
In today's fiercely competitive marketplace, you need more than just a degree. Employers are looking for students that can stand out from the crowd and contribute from day one. You'll gain that competitive edge at the Wake Forest University School of Business. As an undergraduate business school student, you'll be exposed to a world of opportunity that will give you the chance to develop the skills and experience that employers are seeking. With classes and activities in the inspiring new Farrell Hall, you'll benefit from team-based learning, professional development, hands-on experience, leadership opportunities and study abroad programs. You'll also receive personal attention and access to some of the best business minds in the country–our faculty and alumni. You will leave the School of Business armed with the practical experience and the business acumen to set you apart from the competition.
The Wake Forest University School of Business offers a Bachelor of Science degree program for undergraduates.
Rankings

Undergrad Program Leadership
Dr. Kenny Herbst
Associate Dean of the Undergraduate Program, Board of Visitors Fellow in Marketing, Associate Professor of Marketing
214 Farrell Hall
Phone: 336.758.4215
Email: herbstk@wfu.edu
"Our Wake Forest Undergraduate Business Program is among the nation's best in multiple rankings. Our faculty are passionate and dedicated educators who deliver tremendous learning experiences and a rigorous curriculum. Our terrific staff take great pride in advising our students as they navigate their path to success. Our courses are market-focused. Via teaching cases and including business executives in our classrooms, we help our students hit the ground running on Day One of their job. We listen to the market and to what hiring managers want our students to understand and to be able to do. Beyond creating a classroom that prepares students to feel confident and ready to tackle business challenges, we also want our students to be successful over their entire careers. To that end, our pedagogy instills in our students a desire to become impactful, honorable, professional, and global business leaders."
Emily Allen
Assistant Director, Undergraduate Integrative Student Services
Phone: 336.758.2518
Email: eallen@wfu.edu
Troy Burnett
Associate Director, Undergraduate Integrative Student Services
Phone: 336.758.2620
Email: burnett@wfu.edu
Whitney Milhouse
Sr. Associate Director, Undergraduate Integrative Student Services
Phone: 336.758.2939
Email: milhouw@wfu.edu
Seth Youngblood
Associate Director, Undergraduate Integrative Student Services
Phone: 336.758.2633
Email: youngbsf@wfu.edu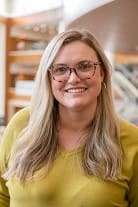 Kristen Rahn
Program Coordinator, Undergraduate Program Student Services
Phone: 336.758.3092
Email: rahnk@wfu.edu