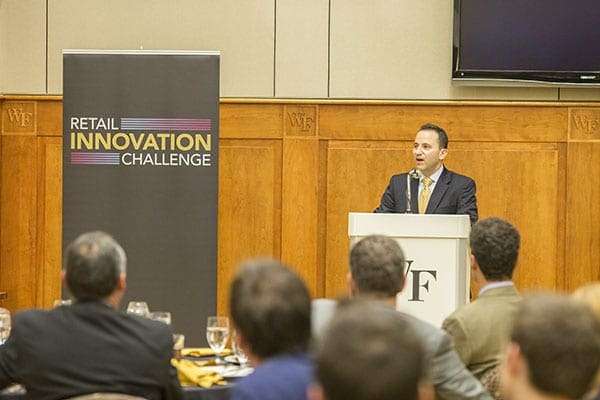 For Immediate Release April 2, 2014
Contact:  Stephanie Skordas, skordas@wfu.edu or 336.758.4098
Wake Forest School of Business Announces 5- Year Partnership with CVS Caremark to Foster Innovation in Retail and Health Care
CVS Caremark and Wake Forest's Center for Retail Innovation to co-host Innovation Challenge through 2018
WINSTON-SALEM, NC – Wake Forest University School of Business Center for Retail Innovation announced today that CVS Caremark has agreed to co-host the annual Retail and Health Innovation Challenge with the Center for the next 5 years, through 2018.
CVS Caremark is the largest integrated pharmacy company in the United States, with more than 7,600 CVS/pharmacy stores, a leading pharmacy benefit manager serving more than 60 million plan members, and the largest retail health clinic system in the nation with more than 800 MinuteClinic locations.
"This partnership will allow the Challenge to be a meeting place between retail and health, especially as we focus on the aging consumer," said Roger Beahm, executive director of the Center for Retail Innovation and professor of practice in marketing. "The commitment by CVS Caremark will help make our event the most robust retail innovation competition of its kind in academia today."
The Challenge is a two-day competition held each fall that selects 20 teams from top business programs in the nation through their submission of innovative business plans. It is more than a competition; it is an opportunity for participants to learn from experts in the field about the graying of America and how that will affect retailers and marketers. At the same time, participants network with top executives in attendance.
CVS Caremark served as lead sponsor of the 2013 Retail Innovation Challenge, which focused on the coming "silver tsunami" and how aging Baby Boomers are impacting the healthcare system. This new partnership will allow the Challenge to continue to focus on innovations for aging consumers at the intersection of retail and health.
"As a pharmacy innovation company that is committed to helping people on their path to better health, our sponsorship of the Retail and Health Innovation Challenge provides a unique way to for us to identify and nurture new ideas and solutions to address the health care challenges of our aging population," said Rob Price, Chief Marketing Officer of CVS/pharmacy. "We look forward to deepening our ongoing partnership with Wake Forest University School of Business."
Price is a member of the 2012 Class of the Henry Crown Fellowship Program at the Aspen Institute (http://www.aspeninstitute.org/leadership-programs/henry-crown-fellowship-program).  As part of this fellowship, Price is dedicating effort to unlocking new ideas to improve the lives of seniors.
A team of Wake Forest MBA students won the 2013 Retail Innovation Challenge with their medication monitoring and alert system. The event is organized and produced by Wake Forest School of Business student volunteers.