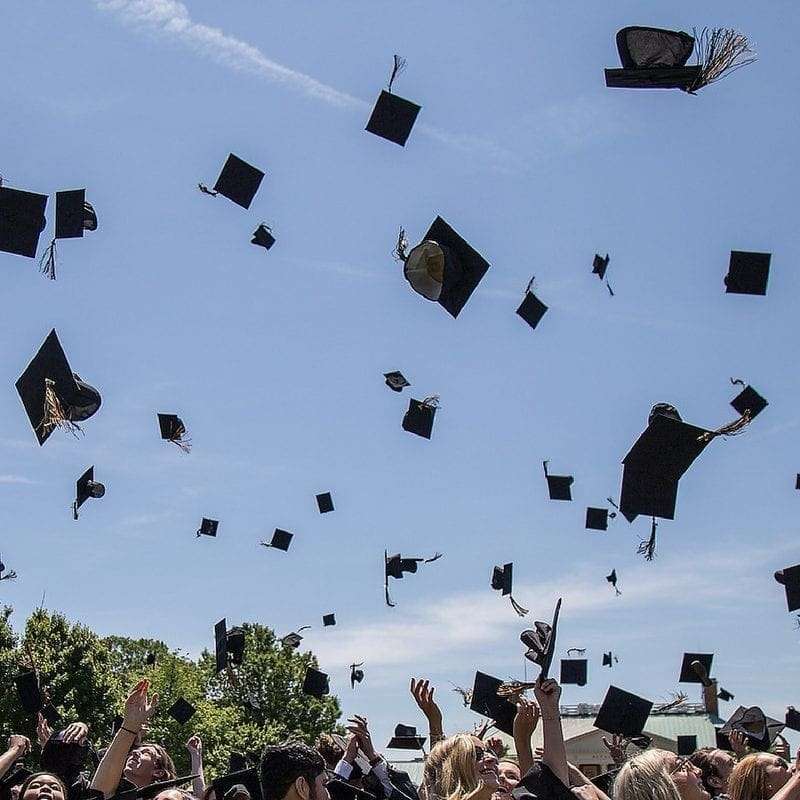 WINSTON-SALEM, N.C. – After completing a two-year evening program, 53 Triad-area working professionals earned their MBA degrees from Wake Forest University School of Business. A graduation celebration at Forsyth Country Club was held to honor them on Sept. 15, 2017.
For many of the recent graduates of the School of Business Winston-Salem Evening MBA program, the diploma benefited their careers. "During the two years of the MBA program, 54 percent of our class received promotions," said Kevin Bender, executive director of the Winston-Salem Evening MBA program. "And 18 percent received two or more promotions in that time. All our recent graduates accomplished their goals while balancing an academically rigorous curriculum, careers, family, and community service."
The Winston-Salem Evening Class of 2017 presented Associate Professor of the Practice Denis T. Maier with the Outstanding Educator Award. Cynthia Lynn Emory received the Class Leadership Award. The Academic Distinction Awards went to Julia Katherine Bayard, Meredith Watts Brown, Patrick Addison Brown, Lisa Renee David, Cynthia Lynn Emory, Marla Rusher Lyerly, and Maria Burke Talbert, who were in the top 10 percent of their class.
The graduates include: Jonathan Gabriel Allen, Bobby Atkinson, Johnathon Dayton Barnett, Julia Katherine Bayard, Henry Isaac Berkowitz, Matteo Blanc, Katelyn Lehmkuhler Blevins, Katherine Paige Bosworth, Meredith Watts Brown, Patrick Addison Brown, Calen Michael Butler, Wayland Patrick Caldwell, Chelsea Anne Cullen, Lisa Renee David, Erin Catzen Deedrick, Cynthia Lynn Emory, Lyndsey Fredericks, Ryan Anthony Gardner, Brandon Heath Gentle, Christopher Lee Guard, Michael Edward Hames, Charrise Brenee Hart, Ross Steven Hartman, Zachary David Howard, Justin Brothwell Hurie, Michael William Jackson, Stephanie Christine Jones, Tirelle Torteeius Lee, Holli Davis Lucas, Marla Rusher Lyerly, Kenneth Rickey McCoy, Jr., Marie Kay Miller, Matthew Daniel Mizell, Gary Ortiz, Rachel Elizabeth Overby, Jessica Leigh Penick Cecil, Steven Christopher Perkins, Mario Rodriguez Neda, Lu Shen, Michael Anthony Spataro, Jr., Bradford Spencer, John Jackson Sutton IV, Tyson Bradley Swanson, Travis M. Swede, Maria Burke Talbert, Christine Elizabeth Trethaway, Emily Dawn Walker, Wrenn Cannady Wells, Si Xiang Wong, Yaowen Xing, Samantha Elizabeth Yocke, Joshua Martin York, and William Robert Zwigard, Jr.
U.S. News & World Report has ranked Wake Forest's MBA program for working professionals #13 in the nation. It's the eighth consecutive year the School of Business MBA program has been #1 in North Carolina. Working professionals have the option of taking evening classes in Winston-Salem or classes in the evenings or Saturdays at the Wake Forest University Charlotte Center.
Contact:  Stephanie Skordas, skordas@wfu.edu or 336.758.4098