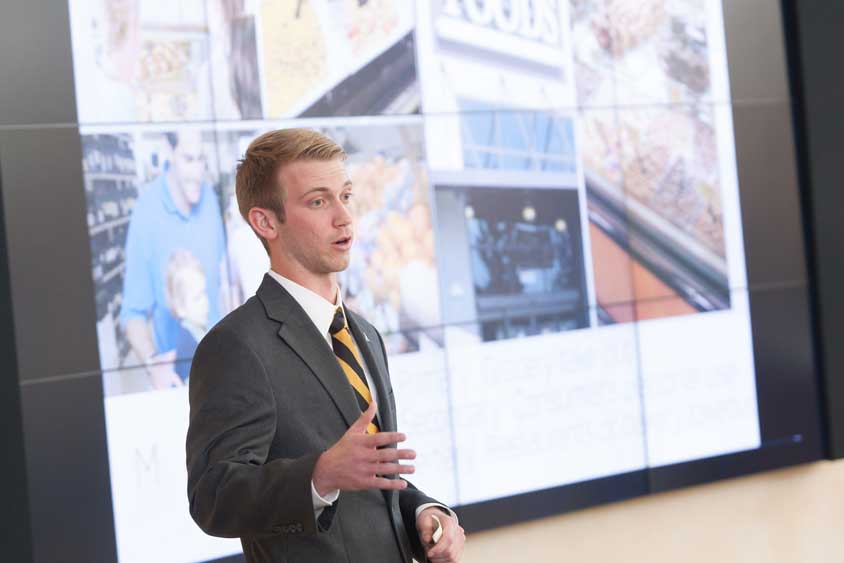 Entrepreneurial students from leading schools prepare innovative ideas for 2015 competition

WINSTON-SALEM, N.C., — The Wake Forest University School of Business 2015 Retail and Health Innovation Challenge will be held November 13-14, in Farrell Hall. CVS Health sponsors this student-led competition in conjunction with the School's Center for Retail Innovation.
The one-of-a-kind student pitch competition showcases innovative solutions that address the unique challenges and opportunities found at the intersection of the retail and health care industries. The competition offers more than $30,000 in prizes.
Steve Anderson, president and CEO of the National Association of Chain Drug Stores, will offer a keynote address on Saturday, November 14 at 12:30pm in Farrell Hall.
Eleven teams of top entrepreneurial talent from Wake Forest University and leading schools around the country have been accepted to pitch ideas designed to solve real-world business problems in the retail and health industries. Each student team will have a two-minute "elevator pitch" opportunity to advance – no fancy AV support or presentation decks are allowed in this phase. The final round will see teams presenting their ideas to a full panel of judges in a 30-minute board meeting.
Judges include representatives from CVS Health, Bellomy Research, Johnson & Johnson, Inmar, Innovation Village, Lowes Foods, Markowsky, Nagel, Wunsch & Partner, National Association of Chain Drug Stores, North Carolina Retail Merchants Association, SalesFactory + Woodbine, and Wake Forest Baptist Health.
While many teams are lined up to compete, applications remain open through November 9.
The competition, run entirely by students at the School of Business, began as the Elevator Competition 15 years ago. This is the third year the event has been sponsored by CVS Health, which has committed to be the presenting sponsor through 2018.
Media contact: Stephanie Skordas at skordas@wfu.edu or 336-758-4098.