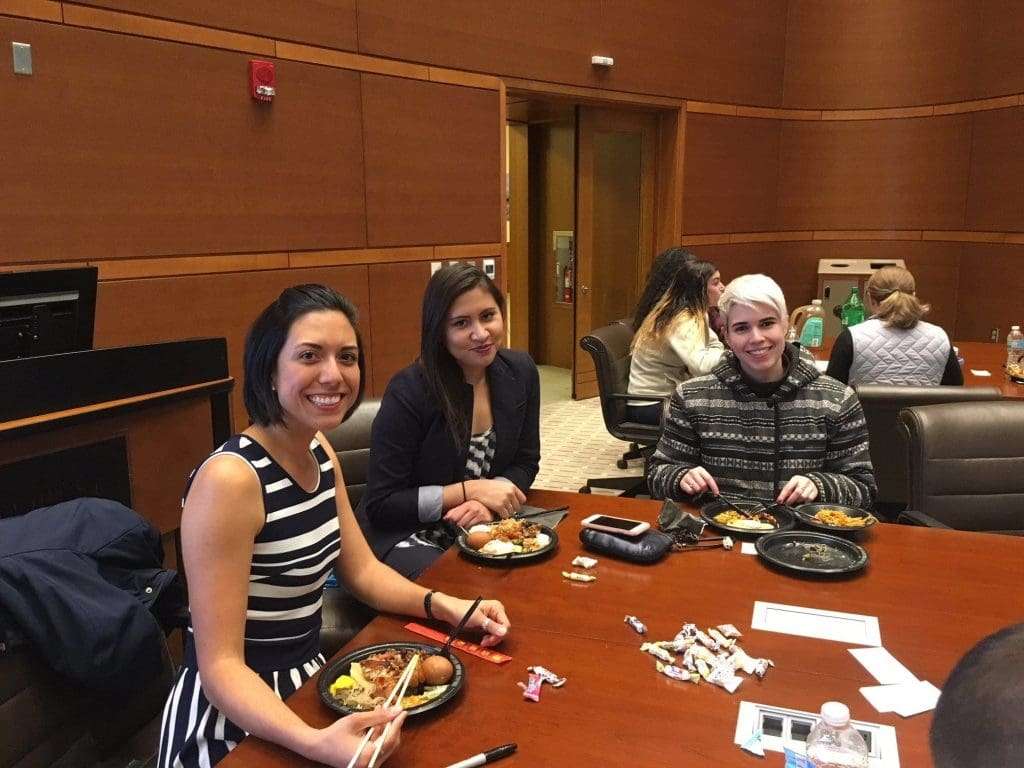 The International Student Association of the Wake Forest University School of Business held a combination potluck dinner and games night in the Bern Beatty Colloquium on October 26.
Students from our Masters in Management, Master of Science in Business Analytics, and Master of Science in Accounting programs joined forces for an evening of fellowship and gamesmanship combined with a taste of international cuisine.
Students made their favorite international dishes and competed for prizes as well as bragging rights on which dish their colleagues preferred.  Dishes included such menu items as tea-boiled eggs, kimchi pancakes, potato cheese pierogis, eggplant with rice noodles, Jamaican beef patties, along with an appetizer of chicken's feet. Alina Chen (MSBA '18) won first place, with Josie Cai (MA '18) and Jessica Barrett (MA '18) in second and third, respectively.
Students played two Chinese games after dinner. In tī jian zi players keep a heavily-weighted shuttlecock in the air by using their feet, and you may know tao quan quan as ring toss.
The next ISA event will be held November 9, when immigration attorney Penni Bradshaw, Partner and Immigration Practice Group Chair for Constangy, Brooks, Smith & Prophete, LLP, will speak to students, faculty, and staff on strategies to help international students begin their careers in the US after graduation.  Emphasis will be placed on the H-1B visa process.
Faculty Advisor Roger Beahm and Amanda Horton, Senior Associate Director, Integrative Student Services, provide faculty and staff support to this year's ISA students and their events.