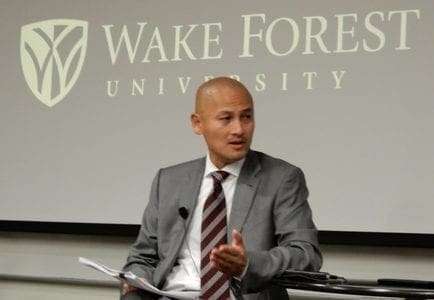 By Amber Veverka
Want a job or internship with the Charlotte Hornets? You'd better know how to write one amazing cover letter and have a social media presence that shows good character. And if you ever paid your bills by washing dishes – be sure to mention it.
That's because when he's sifting through the mountains of cover letters he gets, Hornets General Manager Richard Cho is looking for writing skills that would make an English teacher proud. He scans candidates' social media postings to weed out Michael Jordan autograph-seekers or those apt to spill team secrets. And through the entire process, he's looking for signs someone is used to hard work.
"If I see somebody who is a busboy and a dishwasher at iHop, somebody who worked their way through college and juggled all those things – that resonates with me," says Cho.
Cho spoke to Wake Forest University School of Business students and alumni Nov. 21 at the Wake Forest University Charlotte Center, describing his untraditional career path to NBA general manager – and sharing what he's learned.
For those with high-flying career dreams, his key advice may at first sound a bit pedestrian. "No. 1, take a lot of time writing a cover letter and resume," he said. "Even today, I get a lot of cover letters and resumes with misspelled words or poor grammar, and I don't take those seriously. If I ask an intern to write a letter to a player or agents and there's a misspelled word, it reflects badly (on the Hornets)."
Just how powerful can a well-written letter be? Cho's own career was launched by one.
He was an engineer with Boeing when he began itching to take a shot at a sports career. Realizing that many general managers of sports teams have law degrees, he enrolled at Pepperdine University School of Law. While there, he sent a letter to Seattle SuperSonics General Manager Walter "Wally" Walker, outlining his vision for an analytics approach to evaluating players – and asking for an internship.
The bold move paid off. A couple of months later, the phone rang. It was Walker, asking him to meet. "I came with charts and ideas and luckily, we hit it off," Cho said. Later, Walker told Cho that it was the letter that impressed him the most.
Cho partnered with Microsoft programmers to build a groundbreaking data analytics system that allowed the SuperSonics to evaluate players. The internship eventually led to a job as assistant general manager for the team. But first came a lot of dues-paying.
As an intern, Cho picked up his boss' dry cleaning, fetched lunch and, because he couldn't afford rent, slept on the floor of his brother's apartment.
"I get letters that'll say 'I want to be a GM of an NBA team.' I think that's great to have that goal," Cho told his audience. "But what I want to hear is somebody who's willing to do everything and anything – that there's no job too small or large."
Cho learned early that all jobs have value. He emigrated with his parents from Burma when he was 3. To support the family, Cho's father spent 15 years working the graveyard shift at a local 7-Eleven.
Cho's resiliency was tested in 2011 when after 10 months – and what was regarded as a successful record – he was fired as general manager of the Portland Trail Blazers. "I thought I had a dream job there," Cho said. Picking himself up after that shock wasn't easy.
But Cho's fortunes soon changed. He joined the Hornets in June 2011 and now oversees scouting, draft preparation, salary cap management, training and conditioning programs. In each turn of his career, Cho told students, he's tried to remember "not to get too high with the highs or too low with the lows."
Students lined up after Cho's speech to talk with him, among them, Daniel Nantz, a procurement manager at Clariant Corp. and a member of the Charlotte Evening MBA class of 2019. Nantz said he was most impressed that Cho didn't swerve from his objective even after his abrupt Portland firing. "He could've given up on his dream of staying in the NBA," Nantz said, "but he didn't."
Felicia Pope, a prospective School of Business student, came to the event to pick up tips she can use in both in her work in marketing and business development and in her side consulting job. Cho's process for picking players – using, as he put it, "the eyes, the ears and the numbers" to make decisions – "is something I can definitely take back and apply," she said.
Cornell Thomas, also a first-year Charlotte Evening MBA student, said that he appreciated hearing Cho talk about the importance of character when it comes to finding the right candidates. But it was hearing Cho echo concepts from the School's classes that made the biggest impression. "For someone studying business really for the first time, to hear some of the points (Cho) is making that we actually study here really brings it together," Thomas said.
A few more things you can learn from the Hornets' Rich Cho…
What's it like to work for Michael Jordan?
"No. 1, he's a lot better to work for than Paul Allen," Cho told Wake Forest School of Business students, winning a laugh. (Allen, co-founder of Microsoft and Portland Trail Blazers owner, fired Cho as general manager in 2011.) Jordan, Cho said, is "one of the top five most recognizable people in the world, but he's a lot more of a normal person than you might realize. He's very, very smart, he's savvy…he's very competitive and wants to win. You have to go very prepared into a meeting with him."
And Jordan's got a keen sense of humor, Cho said. A year after Cho was fired from the Trail Blazers, he and his new boss, Jordan, stopped at a Buffalo Wild Wings to watch the playoffs. Then, Cho said, "there's this waiter coming by with a cake and a candle on it and they bring it to me." Confused, Cho looked up to see Jordan displaying that day's Oregonian, which featured a front-page photo of Cho with the headline "No party on this anniversary."
As an NBA general manager, how do you motivate someone who has everything?
"That's really hard," Cho said. "Your commodity is 21-year-old millionaires."  The key, he said, is gathering enough intelligence about players before you hire them. "We want to know what makes them tick, and we want to know that money isn't going to change them."
 What are a couple of the best meals in Charlotte?
Cho runs a food scouting blog, Bigtime Bites, highlighting great meals in cities around the world. In Charlotte, he gives "all-star" status to the shrimp and chicken dumplings at The Dumpling Lady, the lobster cobb salad at BLT Steak and the fire and ice ramen at Futo Buta.