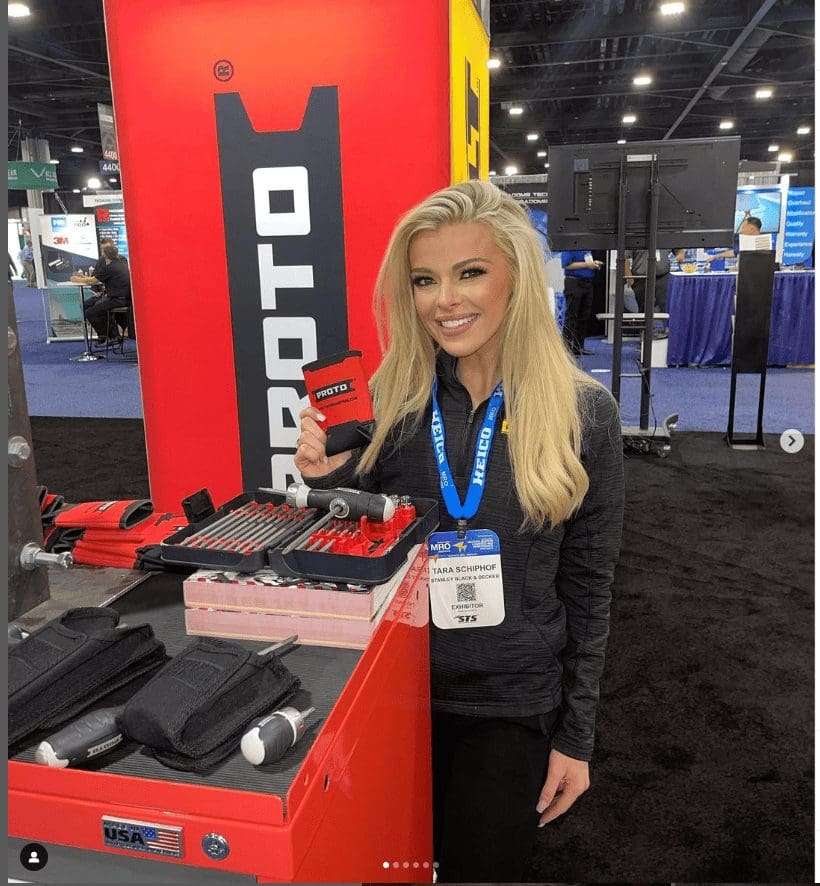 Tara Schiphof (MSM '20)

Tara Schiphof (MSM '20), assistant channel manager at Stanley Black & Decker, Inc., speaks with Carrie Ross, associate director of alumni engagement, about how she is challenging others' views of failure with her #yesYOUcan initiative. A former professional ballerina, Tara was recently crowned Miss Georgia, all while professionally upping her power tool game.
Carrie: Tell us about your current role at Stanley Black & Decker (SB&D). Tara: I am an assistant channel manager for the hand tools and storage side of the business. I work in the financial sector and create pricing and promotions for industrial and government accounts. Working closely with supply and demand, product managers, sales, and the brand itself, my position is comparable to an air traffic controller. Many of those working in executive leadership positions within SB&D were at one point in a channel role. Being in channel gives you the opportunity to see how a business runs from the inside out, as well as a more detailed perspective when it comes to finding solutions and seeing great results.
Carrie: Some may think it's ironic that a pageant queen works for a tool company. How have you handled the stereotypes you have faced in your career?
Tara: As a woman in a male-dominated industry, my intelligence has been doubted simply for being a woman. It can often take a woman much longer to gain the same credibility as a man. I'm fortunate to work for SB&D because they promote female empowerment and stand for equal opportunity. I'm proud to have created a seat at the table by using my voice; women belong in these industries.
Carrie: As a teen, you won the Stokes County Arts Council scholarship that ultimately enabled you to attend the School of the Arts. Talk about the impact this had on your life.
Tara: As a little girl, I would dance in my car seat and started competitive dance at age two. Ballet was always my favorite because it was challenging. Knowing that the commitment would be large, my mom questioned whether I really wanted to pursue it. I confidently declared, "Yes, I want to be a ballerina!" and soon began dedicating my life to ballet. In order to be successful, you have to be consistently training. The financial support from the Stokes County Arts Council was critical; it afforded me the training and shoes I needed to eventually enter the preparatory program at the UNC School of the Arts and become a professional ballerina.
Carrie: After completing a BFA in ballet, why did you pursue the Masters in Management (MSM) program vs. continuing down the ballet / arts path?
Tara: I've danced with a number of dance companies – Boston Ballet, Nashville Ballet, American Ballet Theatre, etc. As a senior in college, I got a contract to be a professional ballet dancer. However, after pursuing dance for so long, I was ready to explore more about myself. I knew I had strengths (i.e., math) that were applicable to other areas. Studying in the MSM program shined a light on my skills and taught me how to build on what I had. The personal growth I experienced in the program helped me articulate who I was as a person, proving beneficial for not just my professional career, but also Miss Georgia.
Carrie: How has your Wake Forest degree translated to your career?
Tara: The MSM program truly set me up for success. The program welcomed me with open arms, helped to build my confidence and taught me how to stay organized. I learned so much more than just taking the courses; if you fully immerse yourself, you will find who you are.
Carrie: What made you pursue Miss Georgia, and why is the Miss America title your ultimate goal?
Tara: There's a Wall of Hopes and Dreams in New York where you can write your wish on a piece of confetti. In 2009 on a visit to the City, I wrote, "I want to be a professional ballerina and Miss America". Clearly, it has been a lifetime dream of mine. However, I never competed in the Miss America organization prior to this year. As a young professional living in Georgia working with power tools, I had a desire to do something different.
Since competing and earning my title, this organization has changed my life. As an example, I have received over $37,000 in scholarship money in just two years of involvement. Those who come after me can earn the same benefits and leave their legacy. I hope to show people that Miss America can work in a male-dominated industry and is not just a pretty face. Tara will compete in the Miss America pageant later this year.
Carrie: Your initiative #yesYOUcan seeks to change the way we view failure. What is your personal experience with failure, and how did you end up developing this community service idea?
Tara: Many people only see the highlight reel. I'm always the first of my friends to talk about my struggles. For nine years, I competed for a large state scholarship competition in NC. After eight years of not winning, I almost let failure triumph until someone told me "no one will believe in you unless you believe in yourself first, and sometimes that means that success is a lonely road." At that moment, I was presented with two options – I could let it define me or let it fuel me. I knew that everything I had experienced was on purpose. I did the mental work, went back to the scholarship competition in 2009, and that was the year I won. Ultimately, I learned how to fail gracefully and the importance of it. While society often teaches us that failure is negative, I discovered at an early age that failure was an opportunity for growth.
My ability to persevere is why I created #yesYOUcan. I want kids of all ages to learn that it's just as important to talk about grit and perseverance as it is to talk about other things! With my initiative I have been able to help others within communities, universities and Fortune 500 companies to develop healthy coping mechanisms and the skills to persevere through life's greatest challenges.