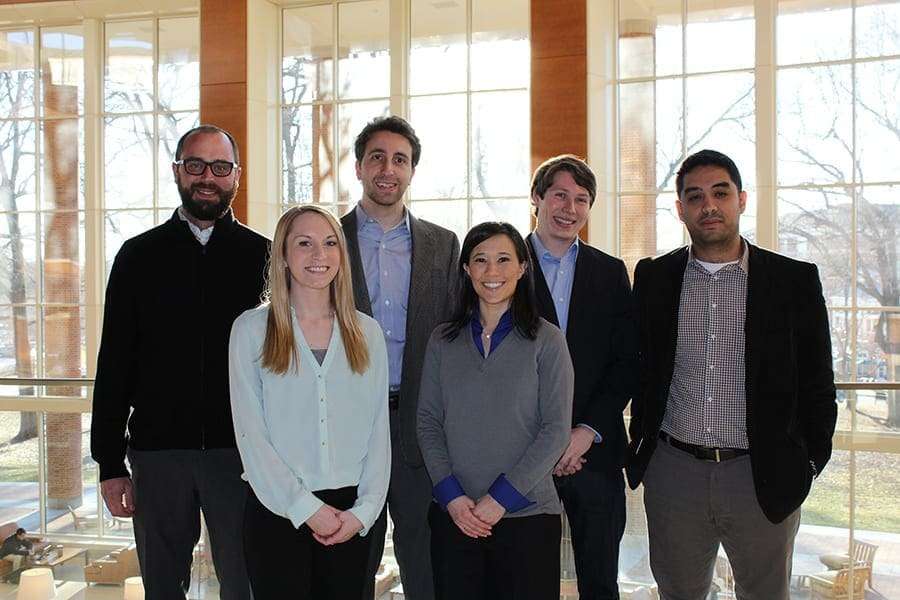 Wake Forest team selected as finalist for first Breast Cancer Startup Challenge
Fosters a unique collaboration between the School of Business, School of Law and School of Medicine
WINSTON-SALEM, NC (March 5, 2014) – Second year MBA students Andy Bowline and Gonzo Estupinan are part of a team of Wake Forest graduate students which advanced to the finals of the Breast Cancer Startup Challenge.
Now the team of students from the Wake Forest University Schools of Business, Law and Medicine and Wake Forest Innovations will put its unique business plan to take a clinically viable breast cancer treatment invention to market into action.
The team also features, second year law student John Hodnette, and doctoral candidates Alison Arter, Kyle Murrah and Janel Suburu from the School of Medicine and Wake Forest Innovations.
The Breast Cancer Startup Challenge is the first business plan and startup challenge featuring inventions conceived and developed by scientists at the National Cancer Institute (NCI) and Avon Foundation for Women grantees to accelerate commercialization. Teams of business, legal and medical/scientific students from top-ranked universities chose one of 10 inventions to bring to market.
Two hundred teams expressed an interest in joining the challenge and 46 teams were accepted to compete on a range of business plan possibilities. This team is the only one of five original Wake Forest teams to move forward in the challenge. The team chose invention No. 7, which uses virus-like particles as a platform for efficient delivery of proteins and RNA.
"These technologies worked really well in the lab, but didn't have the funding to make it to market.  Our plan to create six small business units as part of our company, BeSpoke Therapeutics, will allow us to spread out the financial risk," said team leader Estupinan. "Instead of taking one big bet, we are taking several smaller, less risky bets to fund the company, based on milestones the technology needs to achieve. That will hasten the timeline to bring our product to market."
The Center for Advancing Innovation (CAI), the Avon Foundation and NCI, part of the National Institutes of Health, announced the ten winners and finalists at a news conference from 1 to 3 p.m. EST on March 5. The event can be viewed via a live webcast at www.videocast.nih.gov.
"Today, progress in breast cancer research depends on step-change advances in technology and on paradigm-shifting strategies to rapidly bring these advances to market so they can be used by scientists and physician," said Rosemarie Truman, founder and CEO, CAI.  "Thanks to the Avon Foundation and the National Cancer Institute, CAI has been able to identify potential breakthrough technologies that harness the intelligence, experience and creativity of the innovative thinkers in the challenge. The challenge has exceeded expectations and we are thrilled with the results."
As finalists, the Wake Forest team will work with a mentor to further its business plan and work to bring new technology to market for breast cancer patients. The startup phase of the competition begins immediately. Teams will have until approximately mid-June to secure patents, seed funding and additional resources needed to develop their business.
"NCI has always had a strong interest in fostering young investigators and the fact that this challenge pairs each student team with entrepreneur-mentors to assist in the development of the business plans is another example of how we can bring new ideas and energy to cancer research," said Douglas Lowy, M.D., NCI deputy director.
"It's been a huge learning experience to participate in this challenge and collaborate with business students and law students on the business of science," said Janel Suburu, a Ph.D. candidate in cancer biology at Wake Forest School of Medicine.
For the faculty advisors Stan Mandel, professor of practice at the School of Business; Steve Virgil, clinical professor at the School of Law; and Stephen Susalka, associate director, commercialization at Wake Forest Innovations; having five teams in the competition — more than any other institution — proves how ready Wake Forest students are.
"It has been wonderful to witness the learning, collaboration, and ingenuity of self-directed work teams whose background comes from such diverse domains," said Mandel. "As faculty advisors, our jobs are made easier because of their commitments."    
"Across the various campuses of Wake Forest we strive to provide real-world learning opportunities for our students," Susalka added. "The thoughtful and efficient manner in which the School of Business, School of Law, School of Medicine and Wake Forest Innovations were able to quickly assemble a number of quality inter-disciplinary teams for this Breast Cancer Startup Challenge is a testament to our goal of preparing our students of today for the careers of tomorrow."
"I'm very honored to be part of this team of very intelligent and motivated young people," said Hodnette, the team's legal expert. "I think you should keep an eye on BeSpoke Therapeutics – we have the potential to go far, with the support of everyone at Wake Forest."
"We are looking forward to start-ups launching around these inventions to accelerate breast cancer research and break the mold of how research is funded," said Marc Hurlbert, Ph.D. executive director, Avon Foundation for Women.  "This new approach, through our partnership with NCI and CAI, will help translate promising inventions from the academic laboratory to development and commercialization, and ultimately benefit breast cancer patients."
Contact:  Stephanie Skordas, skordas@wfu.edu or 336.758.4098