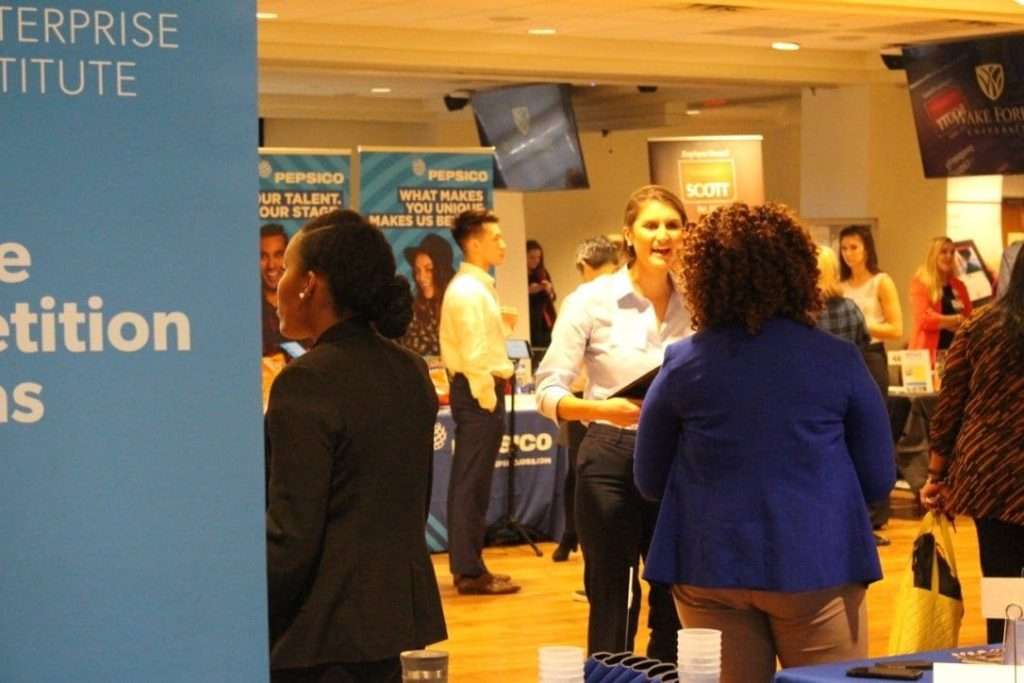 By Katie Dickens, Communications Intern
Representatives from 56 organizations from around the country gathered in Benson University Center to recruit for internship and full-time positions at the Wake Forest University Career Fair.
The biannual career fair is open to both undergraduate and graduate students at Wake Forest University, and a highly anticipated event for both recruiters and students alike. It was held on January 24. Many representatives are Wake Forest alumni and are eager to add more Wake Forest talent to their company.
Emily Nault, who graduated from the Wake Forest School of Business in 2016 and is now a marketing analyst at PepsiCo, said she loved being back on campus. She attended the fair to recruit summer interns for Pepsi. While visiting Wake Forest, she and other PepsiCo employees will also be hosting an information session about their 2018 Summer Marketing Internship Program.
"I love where I work," she said. "I'm surrounded by so much young talent. There are at least nine other Wake grads that I see on a regular basis, and we want to increase that number."
Wake Forest's Business and Enterprise Management major is a distinctive program with a required internship course, which the majority of rising seniors complete during the summer. Maddie Wilder, a junior BEM major, attended the career fair seeking a summer internship to fulfill her class requirement.
"I'm nervous, but I feel prepared too," Wilder said. "There are so many resources available to us, so there's no way you can be totally unprepared."
In addition to notable organizations such as AlphaSights, Belk, Inc., Blue Cross Blue Shield of North Carolina, and General Mills, representatives for post-graduate programs were also in attendance. Chelsea Hosch, a former BEM major at the School of Business, attended the fair to share information about her experience in pursuing a masters degree in Human Resources.
"I love the opportunity to connect with students," Hosch said, reflecting on the experience of attending the fair as an alumnus. "We've all been there in our senior year, not knowing exactly what to do. I'm telling students that they aren't alone."
Hosch worked in advancement while attending Wake Forest, and said she enjoyed reconnecting with faculty and administration that helped her on her journey.
"Everyone is still very interested and invested in you as a former student," she said. "I've been able to catch up with old friends and colleagues while giving back to students."
Many recruiters said that Wake Forest is one of their favorite universities to visit.
Caroline Ruffin, a talent agent at Gravity IT Resources, came to the career fair seeking students to fill full-time sales leadership positions. Gravity IT is based in Fort Lauderdale, FL, and will soon open an office in Charlotte.
"I love Wake's campus; it's just so beautiful," she said. "You can really tell it's such a close-knit community. The founders of Gravity IT are Wake grads, so Wake Forest is near and dear to our hearts."
The Career Fair is held each spring and fall semester to give students and employers this opportunity to network.