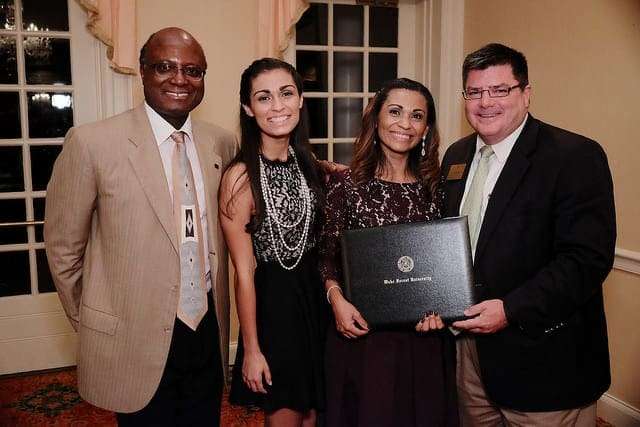 WINSTON-SALEM, N.C. – What's the benefit of earning your MBA degree? For the recent graduates of the Wake Forest University School of Business Winston-Salem Evening MBA program, the value came with promotions. Lots of them.
"Seventy percent of our class received promotions during the two years they earned their MBAs," said Kevin Bender, executive director of the program. "And 18 percent received two or more promotions in that time period."
After completing a two-year evening program, 42 Triad-area working professionals earned their MBA degrees from Wake Forest University School of Business. A graduation celebration at Forsyth Country Club was held to honor them on September 9.
"Our graduates have earned their MBAs with distinction, honor and integrity," Bender said. "Their success in the program is the direct result of being able to balance an academically rigorous curriculum, careers, family and community service. The promotions they received demonstrate the quality and work ethic of our students and the value employers place on the skills acquired through a Wake Forest MBA."
The Winston-Salem Evening Class of 2015 honored Associate Professor Charles Kennedy with the Outstanding Educator Award. Shannon Clauss Pierce received the Class Leadership Award. The Academic Distinction Awards went to Christopher Charles Barber, David Weston Miller, William Holt Montgomery, Shannon Clauss Pierce, and Catherine Elizabeth Wood, who were in the top 10 percent of their class.
The graduates include: Kirby Steve Adcock, Jr., Jason Paymon Adouli, Jordan Michael Allred, Christopher Charles Barber, Benjamin Kyle Barnes, Alexandra Baumbach Bolick, Darien Elexzander Carr, Karen Montoya Combs, Michael J. Combs, James Albert Deskins III, Augustus Green Elliott IV, Timothy James Gardner II, Heyward Evans Garner, Leanne Garrett Gerelus, Austin Bond Goff, Julie Agejew Goodman, Michelle Patterson Gross, Parker Barrett Jackson, Rashid Mazhar Janjua, Richard Brant Kyser, James Everett Robinson Lackland, Sajid Maqsood, Melissa West Martin, Terika Lakeisha McCall, Bradley Scott Miller, David Weston Miller, William Holt Montgomery, Brandon Glenn Pegram, Shannon Clauss Pierce, James Kendall Ponds, Gautam Sidharath Singh Popli, Jessica Wynn Roberson, Daniel Alexander Sharpe, Brittany Lynette Simpson, Justin Alexander Smith, David Branch Sutton, Mary Katherine Taylor, Brian Patrick Vail, Matthew England Wagner, Charles David Wiles, Amanda Teresa Wiss, and Catherine Elizabeth Wood.
Additionally, Jeffrey Patrick Chmielewski and Amanda LeighAnne Davis have completed the MBA portion of their joint degree, and will graduate as soon as they complete the PhD requirements.
U.S. News & World Report has ranked Wake Forest's MBA program for working professionals #19 in the nation and #1 in North Carolina. Working professionals have the option of taking evening classes in Winston-Salem or classes in the evenings or Saturdays at the Wake Forest University Charlotte Center.
Media contact: Stephanie Skordas at 336.758.4098 or skordas@wfu.edu.