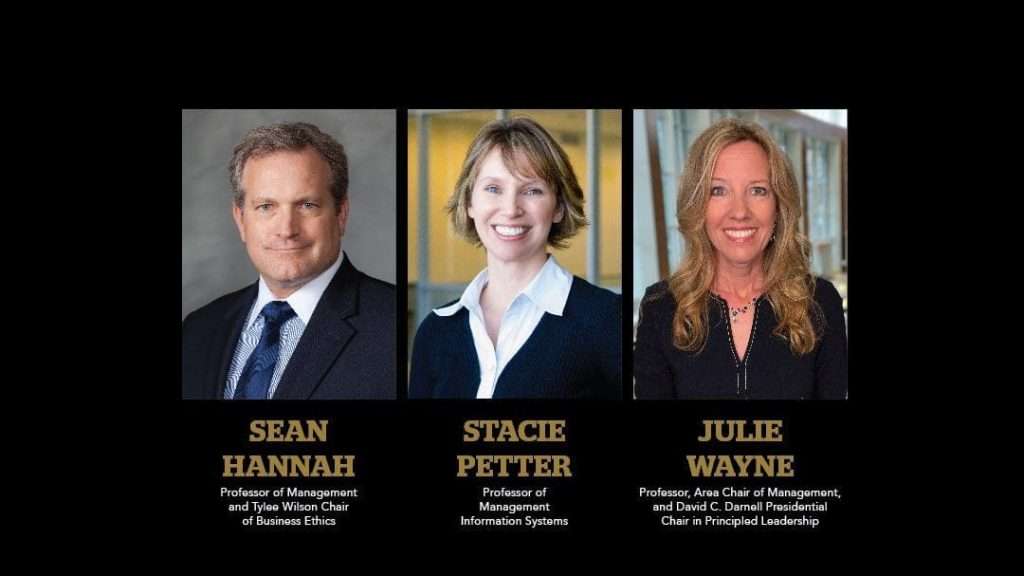 The research of professors Sean Hannah, Stacie Petter, and Julie Wayne have earned them the recognition of being named among the top 1 percent of the most impactful researchers worldwide, according to a recent Stanford University study.
"The ultimate goal of any scientist ought to be to advance the body of knowledge in their chosen discipline. This recognition is exciting as it means that other leadership and management researchers are using my research to generate their own, thus moving the field forward," Hannah said.
The study reviewed research scientists across the world in 22 fields and 174 subfields and measured their impact. A career-long list and single-year list (as of 2021) were developed, the latter of which the WFU professors are included. Scientists are included in the list if they are either in the top 100,000 scientists by total citation across all sciences or are in the top 2 percent of their field. They are then ranked based on total citations in that year, placing Hannah, Petter, and Wayne in the top 1 percent.
"Anytime I publish a paper, I hope that others will read the article and find it useful. Sometimes an author may reach out to me and say they found my paper interesting or thought-provoking, but most of the time, it is difficult to know how many people read your work and find it helpful as they pursue their research," Petter said. "When an author cites my work, it provides a more tangible way to identify that other scholars (in my discipline or beyond) find my work relevant to their research. To see that scholars have cited my research demonstrates to me that others find my research to be relevant and useful."
The database assessed scholars from all scientific disciplines, including business, humanities, social sciences, biology and engineering. UNESCO, the United Nations Educational, Scientific and Cultural Organization, reports that there are 8.8 million scientists in the world across all sciences. Both Hannah and Petter have been included in the single-year list each year since its inception in 2019, and it is Wayne's first appearance.
"We are proud to support the work of Dr. Hannah, Dr. Petter and Dr. Wayne. Their research in leadership, management, information systems and analytics not only catalyzes further research, but it also informs our programs and curriculum and has a meaningful impact on business and society," said Dean Annette Ranft.
More About Faculty
Sean Hannah, Professor of Management and Tylee Wilson Chair of Business Ethics
Hannah's research focuses on the study of leader development, exemplary leadership and its positive effects, character and behavioral ethics, strategic thinking and the building of high performing teams.
Hannah came to Wake Forest in 2012 after a distinguished 26-year career as a Colonel and Infantry officer in the U.S. Army. His service included multiple combat and contingency deployments, culminating as a West Point professor and the director of the Center for the Army Profession and Ethic.
He is a senior research associate for the Allegacy Center for Leadership and Character. He is an editor and co-author of the second edition of Leadership in Dangerous Situations – a comprehensive guide to help military, emergency, and first responders face the psychological, social and physical challenges in leading in dangerous environments. He is also the Editor in Chief of the Journal of Leadership and Organizational Studies and sits on the editorial boards of three other top journals. Hannah has published over 70 papers including in premier management and applied psychology journals such as the Academy of Management Journal, Academy of Management Review, Journal of Applied Psychology, Organizational Behavior and Human Decision Processes, Personnel Psychology, Journal of Management and many others. Hannah was recognized by the Academy of Management (AOM), the international professional body for management scholars, amongst its 19,000-plus members to receive the 2017 Practice Impact Award, which recognizes a scholar annually for their contributions to managerial and organizational practices. In 2018 he was inducted as a Fellow in the Society for Industrial and Organizational Psychology as well as a Fellow in the Association for Psychological Science.
Hannah earned a Ph.D. in management from the University of Nebraska-Lincoln, an MBA and M.A. in public administration from Syracuse University, a master's in national security studies from Marine Corps University and a bachelor's in political science from California State University.
Stacie Petter, Professor of Management Information Systems
Petter's research focuses on the impacts of information systems to individuals, organizations, and society. For instance, she has published research regarding how information technology can be used to counter human trafficking, how gamification and online games can provide value in organizational settings, and how an individual's personal identity with information technology can affect their use of technology in personal or business settings.
She is a 2022 recipient of the AIS Fellow Award presented by the Association for Information Systems. The accolade acknowledges individuals who have demonstrated excellence in research, teaching, and service. It is one of the highest honors within the discipline. A total of 12 fellows were selected in 2022.
Petter's research has been prominently featured in MIS Quarterly, Journal of Management Information Systems, and various other information systems publications. Her research on human trafficking has also received funding from the National Science Foundation and the IBM Center for the Business of Government. She has served as Senior Editor for AIS Transactions on Replication Research and AIS Transactions on Human-Computer Interaction. Petter is a member of the editorial review board for the Journal of Association for Information Systems and served two terms as Associate Editor of MIS Quarterly. She has also served as an Associate Editor for Information Systems Journal.
Petter earned a Ph.D. in computer information systems and an MBA with a concentration in computer information systems from Georgia State University, as well as a bachelor's in computer science from Berry College.
Julie Wayne, Area Chair of Management, Professor and David C. Darnell Presidential Chair in Principled Leadership
Wayne studies issues related to challenges created by changing demographics and roles of men and women in society. She has published research on sexual harassment, the work-family interface, and workgroup diversity. She focuses on positive aspects of individual and organizational functioning.
Wayne focuses on positive aspects of individual and organizational functioning. For example, rather than a focus on conflict, she studies how work and family can benefit one another and factors that promote work-family balance. She also seeks to understand biases against underrepresented groups or understudied topics in organizations. Her work has been published in numerous journals including Journal of Applied Psychology, Journal of Vocational Behavior, Organizational Research Methods, Journal of Occupational and Organizational Psychology and Human Resource Management. Additionally, she serves on the editorial board for Journal of Business and Psychology
Wayne was awarded the Responsible Research in Management Award at the Academy of Management Conference. Sponsored by the Academy of Management Fellows and co-sponsored by the organization Responsible Research in Business and Management, the annual award recognizes and celebrates recent research that benefits society by producing credible and useful knowledge.
Additionally, Wayne was selected as a top 6 finalist for the 2022 Rosabeth Moss Kanter International Award for Research Excellence in Work and Family. Presented by the Center for Families at Purdue University and the Boston College Center for Work & Family, the award raises awareness of excellent work-family research, fosters debate about standards of excellence, identifies the "best of the best" studies on which to base future research, and outlines specific implications of the research for work-life and human resource professionals.
Wayne earned a Ph.D. in industrial and organizational psychology from the University of Georgia and a bachelor's in psychology from Furman University. She has been a faculty member at Wake Forest University since 1998.
---
Media Contact: Danyelle Gary, garyd@wfu.edu, 336.582.0622