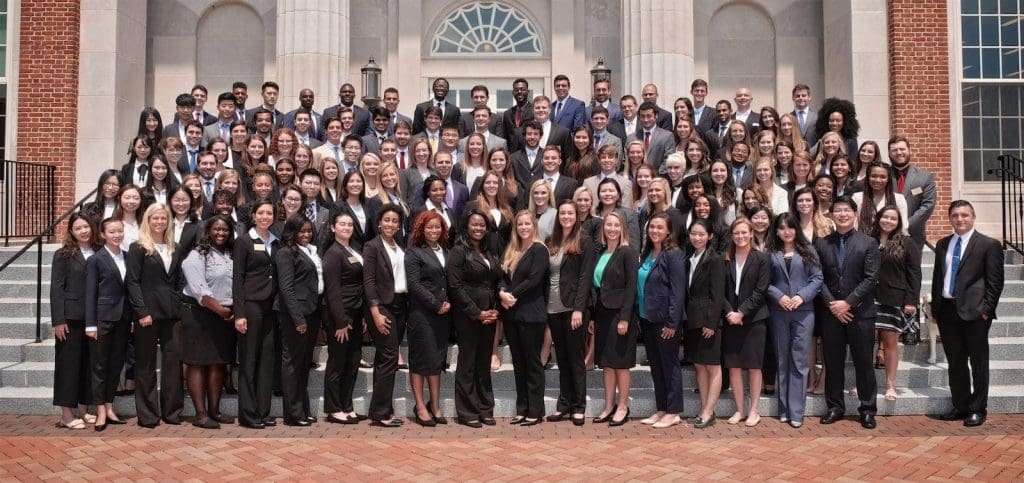 By Stephanie Skordas, Sr. Associate Director, Communications
"Friends of mine who graduated from the Master of Arts in Management program had so many great things to say about their experiences, and the reputation of the program is incredible," said Jake Wilson (MA '18) who earned his economics degree at UNC-Chapel Hill.
Friends from Wake Forest who earned their Master in Management degrees also recommended the program to Jordan Janis ('17, MA '18). "They said the program gave you a diverse background in the world of business and appealed to people who were not business majors," he said.
Janis said another factor in his decision was attending the School of Business Summer Management Program in 2015. "I majored in history and really wanted more exposure to the world of business. That experience plus the recommendation from my friends helped me decide to enter the MA program."
Story continues below:


Jill Brunori ('17, MA '18) also mentioned the Summer Management Program as a deciding factor in her plans to join the MA program. As a guard on the Wake Forest women's basketball team, she was looking for a way to develop as a business professional.  "I learned about having a business management background, including finance, accounting, marketing, and business analytics," she said. "Through my undergraduate communications degree and my experience as a student-athlete, I wanted to develop my network and find a role in the sports industry."
Sometimes the recommendation comes from a trusted counselor. "One of my advisors at UNC-Charlotte recommended the program," said Zsaqual Arrington (MA '18). "She told me the program gives you additional career paths to explore. I was interested in the semester-long project that offers hands-on experience while I'm attending class full time. The ability to work with a company to gain experience appealed to me. I don't think a lot of other programs can offer that."
The School welcomed 119 students into the program, representing 69 colleges and universities and 48 undergraduate majors. This year, 64 percent of the class is female, and the program is also diverse in other ways.
"We have a tremendous amount of diversity in the MA program," said Associate Dean Scott Shafer. "Not just regarding gender or ethnicity, but students from across the country and the world with a variety of backgrounds and educational experiences. This diversity across many dimensions makes the learning experience very special and unique."
These students joined their new classmates in a week of orientation beginning July 10. The program focused on themes each day like welcoming them to the world of business, participating in the Wake Forest community, focusing on personal success, building high-performing teams and on the final day, having an impact on the business world through a service project.
That service project was a meal-packing event for Forsyth Backpack, an organization that helps local schoolchildren who don't have reliable access to food except through school lunch to be well-fed on weekends and holidays.
To kick off the project, Ethan Todd (MA '15) led a discussion on servant leadership. Todd, an alumnus who works for Dell in Austin, Texas in human resources, helped connect with and plan the orientation partnership with Forsyth Backpack during his time at Wake Forest. Dell sponsored this year's orientation service project.
After the discussion, the new MA students divided into their new teams to pack the meals into resealable bags. The Class of 2018 packed more than 3,200 meals on the final day of orientation, ready to begin their summer classes with a sense of accomplishment.