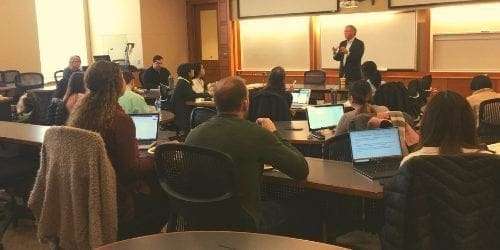 By Stephanie Skordas, Sr. Associate Director, Communications
Former President and CEO of BlueCross BlueShield of NC, Brad Wilson (JD '78), shared his diverse career path with School of Business students on Feb. 28. "Leadership skills are universally transferrable," he said.
During the lunch and learn discussion Wilson encouraged students to consider four leadership concepts he has leaned on during his career:
Know who you are. When you know your purpose and your beliefs and can relay them in less than two minutes, you have guiding principles that will stand you in good stead.

Know how to listen. Wilson says the more responsibility you have, the less people will tell you. It's important to listen actively and broadly.

Know how to communicate in both written and oral forms. He suggested watching speeches from professionals who are good at it and practicing. He also said having honest feedback will help you become better.

Know how to be yourself – be authentic and genuine. "Don't try to be something you're not," Wilson said. "Be vulnerable. It's okay to say you made a mistake."
Wilson is an executive in residence for both the School of Business and the School of Law.