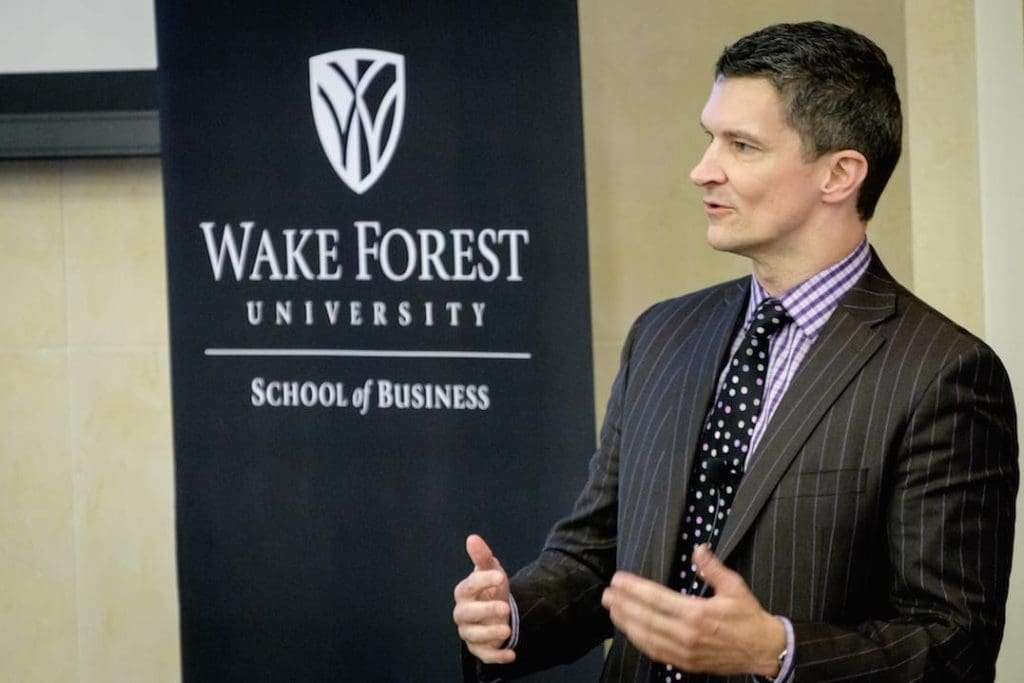 Hanesbrands shares strategy and alumni stories with School of Business students
By Stephanie Skordas, Sr. Associate Director, Communications
When it comes to innovation, you might not immediately consider a company that got its start in the Piedmont area of North Carolina in 1901.
But you should.
Hanesbrands is a 114-year old company that really got a new start about eight years ago, according to the company's Group President, Innerwear Americas Howard Upchurch, who's also a Double Deac ('90, MBA '94). He returned to campus for Hanes Day at Wake Forest, an event for Wake Forest students to learn more about the company, network with executives and discover compelling career opportunities.
"When you think of innovation, you might think of products and marketing and designers and all the people coming up with ideas, but for us it's more a system-wide, total companywide strategy," said Upchurch during his keynote: "Innovateto Elevate – Maximizing the Impact of Innovation."
Upchurch and nearly 30 other Hanesbrands employees who participated in the January 28 event have something in common with the audience in Broyhill Auditorium – earning a Wake Forest degree. In fact, nearly 90 Wake Forest alumni work at Hanesbrands, which is headquartered in Winston-Salem, just five miles from campus. While the headquarters is local, Hanesbrands is a truly global consumer products company.
Following its Innovate to Elevate strategy has made Hanesbrands stronger, Upchurch told the audience. The strategy is built upon three elements; brand power, innovation platforms and supply chain leverage. From tagless T-shirts and bottoms, to extensive R&D in supply chain and to leveraging performance technology, Hanesbrands works to promote specific features across its entire retail spectrum. Upchurch credits this direction for dramatically increasing the company's stock from $5 a share during the bottom of the recession to its rebound to around $114 at the time of the talk.
This strength meant that Hanesbrands was not only looking for marketing and sales professionals, a traditional recruiting strategy, but also professionals in supply chain, advanced modeling, information technology, finance, accounting and human resources. After the keynote from Upchurch, the dozens of Hanesbrands leaders held panel discussions with students interested in those fields.
Hanesbrands' General Manager, Shapewear Tracy Ledgerwood, (MBA '95) says the event was important to her as a Wake Forester, because she benefited from a mentorship as an MBA student. "The person I was matched with worked with Hanesbrands in the Olympics," she said. Ledgerwood explained their interactions ranged from a casual coffee meeting to sitting in on program meetings, and taught her a great deal about the world outside the classroom. "He actually ended up being a guest speaker for my sports management class, so it was a great relationship, very beneficial, and it's something that I would love to give back and do for other Wake Forest students."
Ledgerwood says School of Business students demonstrate the kind of leadership companies like Hanesbrands prize because they understand how to think critically, listen and take the time to really understand a business challenge. "That's what we're looking for. It's people who are engaged. They're willing to take the time to listen, to understand and to really put forth some of their learning."
(story continues after video) 
For Lainey Dorsey (MA '15), the opportunity to network with senior executives and managers was something she couldn't pass up. "I'm enjoying talking to people who've seen the industry grow and have that wisdom, but are up on all the trends – that's a wonderful resource to have when you're trying to understand what a job in that career would look like."
Brandon Raleigh (MBA '15), a second year student in the Winston-Salem Evening MBA program, was impressed that so many Deacons returned to campus for this networking event. "It speaks to Wake Forest's alumni network. It gives you an opportunity to rub shoulders with people that you might never meet on a regular basis. So it has been a great chance for me to understand what other companies are doing and to meet new people."
You may read this story and many others in our Wake Forest Business magazine, available online. You may also download the PDF of the magazine for your e-reader or tablet. Check out our photo gallery below.