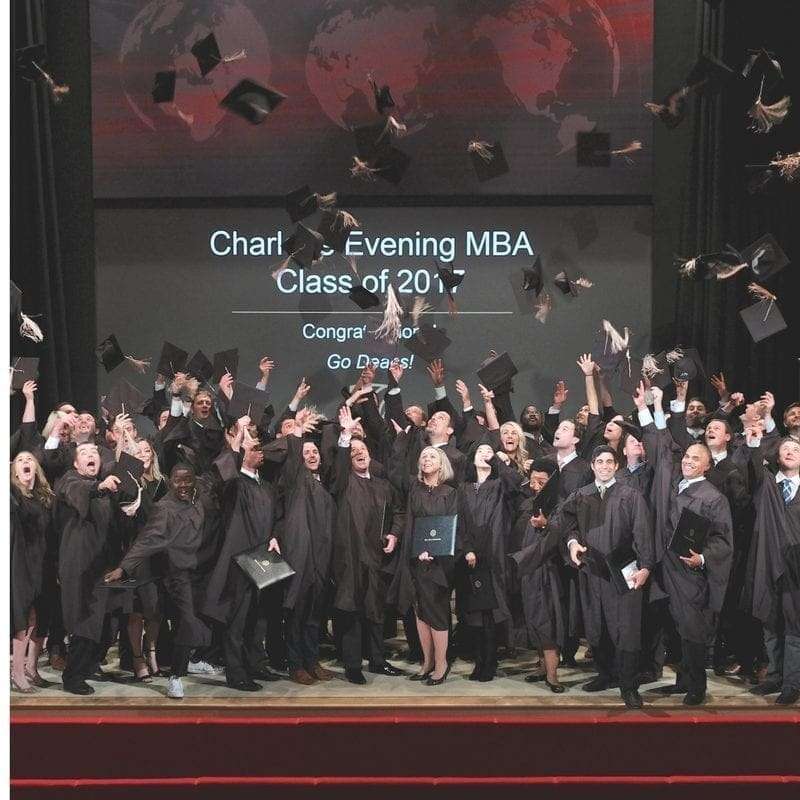 CHARLOTTE, N.C. – After completing a two-year evening program in Charlotte, 56 working professionals earned their MBA degrees from Wake Forest University School of Business. A graduation celebration at Bank of America and WFU Charlotte Center was held to honor them on Sept. 22, 2017.
"Our graduates balanced a rigorous academic program, including extra-curricular activities such as global immersion courses and case competitions, while maintaining their careers and meeting the needs of their families and communities," said Tom Smith, executive director of the Charlotte MBA programs. "We are proud of their accomplishments and know they will continue to have an impact on the business world."
The Charlotte Evening Class of 2017 presented Part-time Executive Professor of Strategy Dan Fogel with the Outstanding Educator Award. Rickey Otey received the Class Leadership Award. The Academic Distinction Awards went to Brandon Bracher, Kathleen Brand, Edward DeVaney, Mitchell Granger, Barthalomew Major, David Pearson, and Kelly Wallace, who were in the top 10 percent of their class.
The graduates include: Brian Nangle Abernethy, Andrew Verwaay Ansaldi, Bridget Ann Bacon, Joshua Shane Barbee, Zachary Brian Baughman, Matthew Willden Beachum, Andrew Michael Boulanger, Brandon Scott Bracher, Kathleen Miranda Brand, R. Michael Brannock, Jr., Samuel Mort Cecil, Ngina Kai Connors, Austin Byron Crass, Kent Shelton Davidson, Edward Patrick DeVaney, Jeremiah L. Dorris, Clinton Wade Eshelman, Paul Chet Farnum, Marco Antonio Fernandez, Karmen Gill, Mitchell Preston Granger, Paige Findlay Gregory, William James Haynes III, Mark Taylor Helms, Samuel Guy Henderson, Garrett Robert Hess, Jennifer Powell Horstmann, Samuel Alexander Houff, Davis Bell Hunt, Xiaoxuan Jiang, Robert Fitzgerald Johnson, Jr., Andrew Robert Kerrigan, Allyson Marie Lingerfelt, Barthalomew Joseph Major, Matthew Edward McConeghy, Joseph Edward Meyer, Kyle Douglas Miller, Amnon E. Nachshon, Jonathan William Olsen, Ricky Lee Otey, David Andres Pearson, Alan Wade Pernell, Douglas A. Podraza, Katherine J. Rice, Michael Alexander Satterfield, Joseph Aaron Sell, Jonathan Whitney Shaw, Barrett Lindsay Slade, Kelly Clifton Wallace, Joel Dale Wellendorf, Jeremy Tyler West, Michael Jeffery Wise, Michael Matthew Wisser, Kyle Alan Yonce, Stephanie Lane Yonce, and Cassie Amanda Zingery.
U.S. News & World Report has ranked Wake Forest's MBA program for working professionals #13 in the nation. It's the eighth consecutive year the School of Business MBA program has been #1 in North Carolina. Working professionals have the option of taking evening classes in Winston-Salem or classes in the evenings or Saturdays at the Wake Forest University Charlotte Center.
Media contact:  Stephanie Skordas, skordas@wfu.edu or 336.758.4098