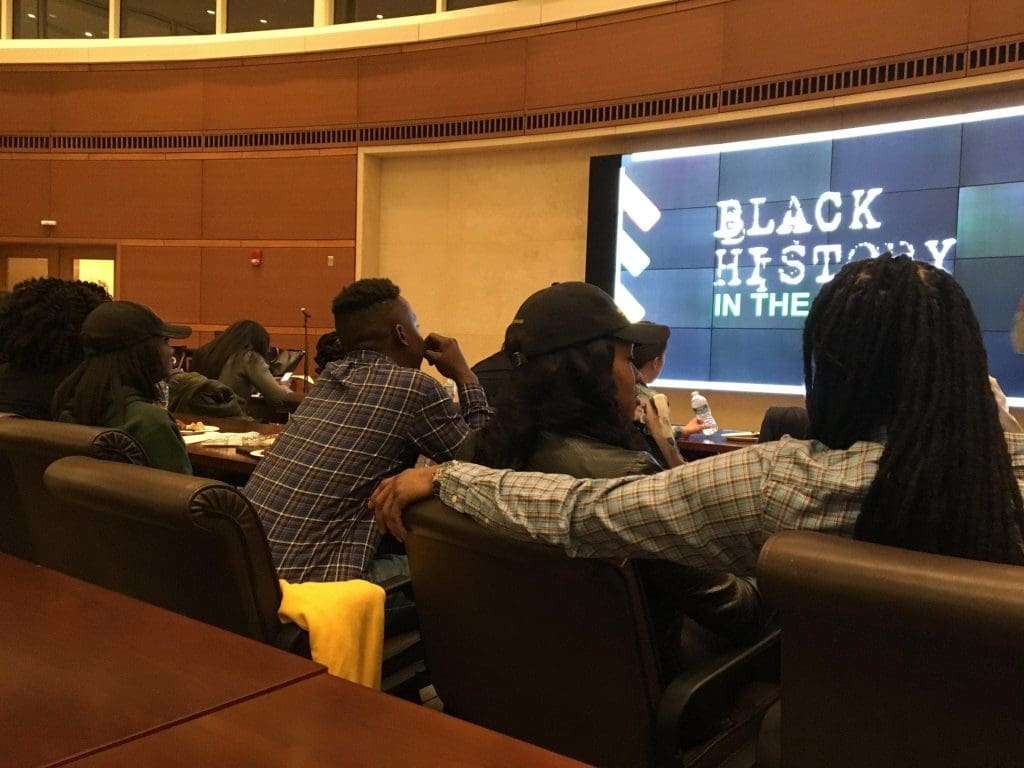 By Stephanie Skordas, Sr. Associate Director, Communications
For an evening of spoken word, poetry, and other performances to celebrate Black History Month, the Business Students of Color (BSOC) organization reached beyond the Wake Forest campus. Students from North Carolina A&T University, UNC-Greensboro, UNC-Chapel Hill, and Wake Forest came to Farrell Hall on February 21 to share their creativity and passion.
"I think this event provided the opportunity for people from different cultures and ethnicities and races to come together and understand what black history stands for and what it could be here at Wake Forest," said Lawrence Watkins (MSA '17), BSOC president.
With pieces by poets, hip hop artists, and fraternity and sorority members, the evening combined moments in black history with spoken word, song, and step performance.
"It's the first time I've been to an event like this and I found it very impressive and powerful," said Carin Wang (MSA '17). "With the songs and poems to express ideas, I thought it was very nontraditional and creative."
To commemorate Black History Month, BSOC members shared information about historical figures, black women leaders in business, music, media and publications, and Historically Black Colleges and Universities (HBCUs). Christian Chambers (MA '17) and Liam Davis (MSA '17) served as hosts.
"The way the event combined educational vignettes about black business leadership with the artistry and global impact of the traditions of poetry, rap, spoken word, and hip-hop made for an evening of inspiring performances," said Matt Imboden, executive director of integrative student services at the School. "This event was just the most recent example of student leaders in our School community crafting a fantastic opportunity for cultural expression, education, and exchange."
"It's about the energy we all bring and making sure that people are comfortable enough to connect," Watkins said. "It's about establishing those relationships outside of this event." As he told the crowd at the end of the night, "We're all different. You can't take anything for granted. We are breaking barriers and trailblazing."