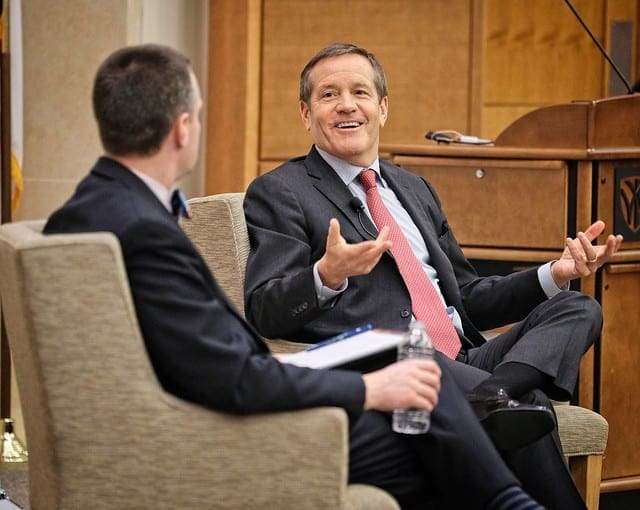 "You need to make sure that what you do every day in your work contributes to societal value," John Taft told an audience of Wake Forest School of Business students, staff, and faculty gathered in Broyhill Auditorium. "You have to be a force for good. Everything else is secondary."
Taft, vice chairman of R. W. Baird & Co., comes by his commitment to society naturally. His family, which included 27th U.S. President William Howard Taft, deeply believed in devoting one's life to public service.
"I elected to go into business because I thought I could honor my family's legacy by being a business person, and specifically by being in finance," he shared during a conversation with Matthew Phillips, director of the School's BB&T Center for the Study of Capitalism. The visit to Wake Forest was a first for Taft, who shares his perspectives on the profession of business on his popular blog, "Finance for the Greater Good." A reception, sponsored by Baird, followed the talk.
"Mr. Taft brings depth and energy to the idea that business—and for him, finance in particular—creates value in society by linking up resources with the people who need them," added Phillips. "That's liberating and even lifegiving for students and young workers: the work that you're uniquely gifted for and trained to do makes the world a better place."
A literature major in college, Taft never intended to go into business. While working as a reporter, he covered the transformation of Lowell, Massachusetts, from a decimated industrial mill town into a national park. The convergence of good corporate citizens, local, state, and federal government, not-for-profit companies, and the public to rebuild the city inspired him.
"I thought, 'I want to do that,'" he shared. "So I went back to school and the first job I went into was public finance."
As an investment banker in Minneapolis, Taft worked with public entities to raise money on the municipal bond market. "The proceeds were usually put to work on projects that made a difference in the lives of real people in the real world," he added. "I went into finance to make a positive difference, to do more things like I had written about at Lowell."
In his climb to the top ranks of America's wealth management and banking firms, including serving for over a decade as CEO of RBC Wealth Management, Taft has maintained focus on the health of the broader society and the ways business can contribute. He argues that now more than ever, businesses are positioned to be true change agents.
"Businesses today are far more responsive to what's going on in the world than government, for example," he said. "When the information flow is as immediate and granular as it is, businesses are a giant nerve with millions of nerve endings and they're responding immediately."
Taft shared with students that the measure of a good company is one that helps them connect how their work impacts society. "The best companies are relentless about communicating their purpose, not in terms of enriching shareholders, employees, and management, but in terms of helping real people in the real world," he added.
He also emphasized the importance of maintaining flexibility and to be willing to take a risk when opportunities arise. After retiring from the company he had been running for 15 years, Taft found himself failing at a life of leisure. Despite being actively engaged in boards and advising, the stark change in pace, he described, was like moving from the sidelines as a head coach of a football team to being a spectator in the press box.
"It just wasn't the same. I wanted to be back down on the field," he said.
When the opportunity to become vice chairman of Baird came about, Taft seized the opportunity and pivoted out of retirement.
"You have to have a plan, execute the plan, be open to opportunity, and be flexible," he shared. "At any given time, you need to have a plan that you are executing while being willing to pivot and respond to opportunities."
Shannon Zhou (MSM '19) was among several graduate students attending the lecture and connected with Taft's commentary on understanding individual roles within an organization. "During my job search, a lot of times I've found difficulty in identifying why I'm doing a job," she said. "He talked at a higher level the importance of your role, how it fits into society, and how it can create value. I think that gives a lot of encouragement, as well as meaning for the job I will do in the future."
For Clay Cain (BS '21), an undergraduate finance major planning to pursue a career in investment banking, Taft's remarks resonated with him on a personal level. "One of the reasons I wanted to join financial services is my belief that it can be and should be an industry of responsibility and ethics," he stated. "My favorite part of the talk was that financial services and capitalism can be more impactful than government because it is so responsive to what is actually happening in the world at all times. I really liked that and hope to keep that mindset moving forward."
In closing, Taft reminded the audience to not lose sight of the bigger picture.
"Our industry — finance — is incredibly intense. There are highs and lows, and over 40 years, the only thing that sustains you through the good and bad times is knowing that you're making a difference for real people out there."