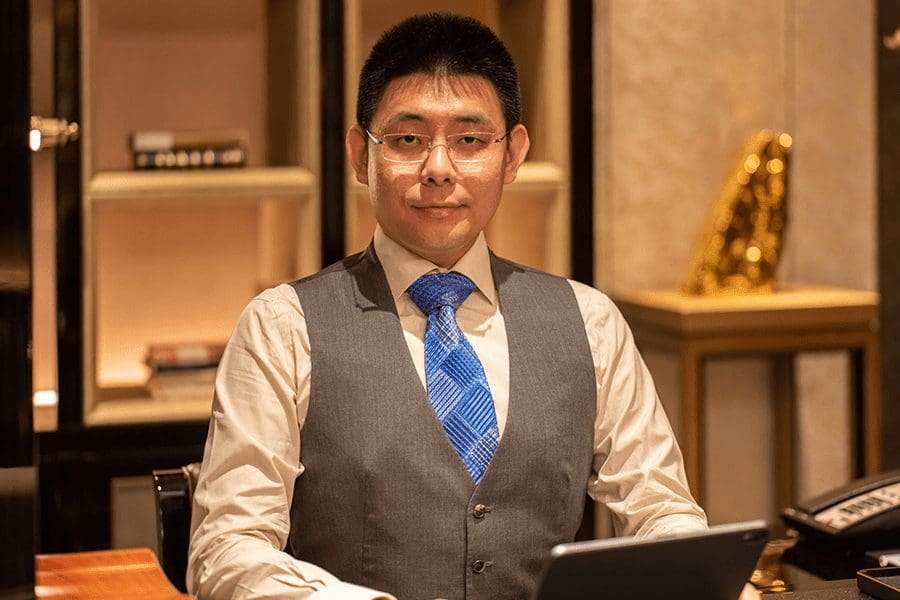 William Wang ('18), chief of staff and commercial director at Oliver Wyman, speaks with Alumni Council member Solomon Cole ('04, MSA '05) about his experience at Wake Forest, the leaders who influenced his journey and why mindset is the key to success. William is also a member of our School of Business Board of Visitors.
Solomon: After graduating from the Shanghai Pinghe School, you came to the United States for college. How did you choose Wake Forest, and did you visit campus before deciding to attend?
William: I learned about Wake Forest by "a mistake." During high school, I was selected as a delegate to attend the IB World Student Conference at the University of Warwick in the United Kingdom. However, the conference organizer mistakenly sent me a confirmation letter for the conference at Wake Forest, which was another host site. I got to know Wake Forest and decided to apply a year later without ever visiting campus.
Solomon: At Wake Forest, you founded The Media, a source of student-led media for Wake Forest groups and events. Tell us more about it, including what sparked the idea.
William: Because of the accidental way I found out about Wake Forest, I believed that the University needed to increase its awareness among prospective international students so that they could discover this great university, too.
The Media started by establishing the iTunes U platform, an online platform offering free educational content to a broad international audience, where Wake Forest was the only top 25 university with no presence. I spoke with University leadership to explain why this initiative made sense. During our meeting, when we searched for Wake Forest on iTunes U, it returned a page with content from Duke University!
That's the moment the University decided to invest in this initiative and purchase equipment and fund start-up expenses. Over my four years at Wake Forest, The Media expanded to over 100 student members who served across online education, digital publication, newscasting, and new technology exploration, including augmented/virtual reality ("AR/VR").
Solomon: You are a new member of the School of Business Board of Visitors. From your perspective, how does the leadership of the Board positively impact Wake Forest and the School?
William: I joined the Board of Visitors to add an international perspective and voice. Originally the approach to engaging with international students at Wake Forest focused on integrating them into the broader university. However, as we have learned more about the international student experience, the University's approach has broadened to encompass not only assimilating international students but also enabling them to share their culture with the Wake Forest community, creating a richer academic experience for everyone.
Solomon: What leader(s) inspire you? How?
William: I have been deeply enlightened and inspired by two great leaders at Wake Forest: Dr. Ed Wilson (Provost Emeritus, known as "Mr. Wake Forest") and Dr. Lynn Sutton (former Vice Provost).
I got to know Dr. Wilson through my work with The Media. I was excited to have his support when I pitched the idea for iTunes U but more intrigued by the reasoning behind his support: bringing content to people, rather than bringing people to content, which significantly expands the University's reach, impact, and efficiency in distributing knowledge. His wisdom has helped me learn to pause, take a step back, and look at the broader picture when formulating strategic ideas.
Dr. Sutton taught me how to navigate through complexity in delivering results by engaging with numerous stakeholders who have different motives and objectives. She was truly a role model in demonstrating how to pace change management effectively, build a personal brand and network and develop trust over time. Her wisdom showed me how great ideas and transformational change can be achieved within large organizations, which greatly benefited me for my career in management consulting.
Solomon: You are the Greater China Chief of Staff & Commercial Director for Oliver Wyman, with expertise in strategy, consulting, and general management. What's next for your career?
William: I see myself as an intrapreneur who enjoys solving the most complex issues for the largest organizations. The education from Wake Forest, coupled with my professional experience at Oliver Wyman, have equipped me well to address future issues that are tougher and more urgent than ever before for organizations and governments.
Solomon: You've been quoted as saying, "I believe there is always a better practice than the best practice." Elaborate on your perspective.
William: "Best practice" is a term commonly used in consulting that implies that there is an optimal approach to solving a particular problem. I do not think there is a single source of truth or approach to problem-solving that is best in every circumstance. Instead, I believe that the best results are achieved by looking at your situation and evaluating multiple approaches to solving the problem. Then, adopt the best elements of each approach to formulate a unique solution that best fits your needs.
Solomon: What advice would you give to our current Chinese students who will soon enter the workforce today?
William: First, follow your passion. Your passion for the job is what enables you to perform at your best. The best job isn't always what pays the most, but wakes you up with excitement for every working day. Second, mindset is critical. We receive great skill set training in school, but your mindset will be the most critical driver of success in the workplace. Conscientiousness (taking ownership of your work), caring (displaying kindness and concern for others), and continuous improvement for a better self will enable your long-term career success.