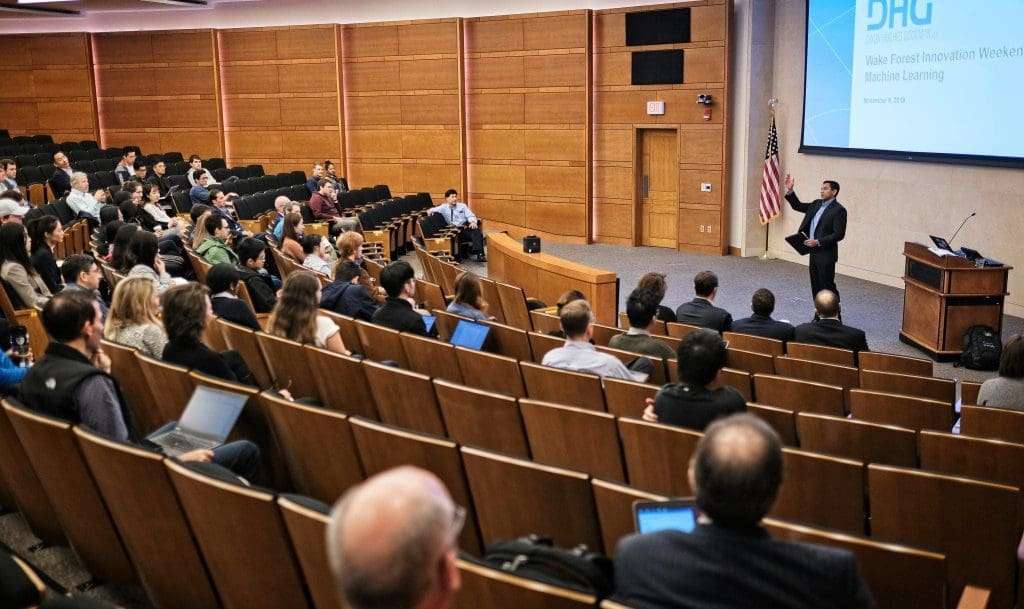 By Aleasha Vuncannon
Experts from the world's leading professional service firms participated in Wake Forest School of Business Innovation Weekend Nov. 9 – 10. More than 300 students, faculty, and staff had the opportunity to hear from industry experts on how artificial intelligence is disrupting the industry. The event was organized by the School's Master of Science in Accountancy (MSA) program and held in Broyhill Auditorium.
"Artificial intelligence and new technology are happening every day, and it will impact our students' careers," said Professor of Practice Tom Aleman who organized the event. "Our students now have a leg-up on many of their competitors and can, at a high level, talk about what these things are, what they mean, and how they will impact their careers."
Innovation Weekend participants had the opportunity to network, interact, and hear presenters from Dixon Hughes Goodman, Deloitte, KPMG, FTI Corporation, PwC, and EY. The experts shared how machine learning, natural language processing, cyber, blockchain, social media, robotics, and advanced data visualization are impacting business.
While each topic varied, the central theme shared by industry leaders was the vital importance of balancing technology with human interaction. The experts encouraged students to focus on the business problem and the processes to get there – not the technology.
"The goals and objectives remain the same. How we get there is a lot different. The technology allows us to expedite it, streamline it, and allow an audit trail that is easier to follow," explained EY Senior Manager Lee Dixon who presented on robotics process automation. "A business student who can understand technology and communicate with their counterpart is a skillset that really stands out."
Denny Ard, partner with Dixon Hughes Goodman's Professional Standards Group, shared during a presentation on machine learning that 90 percent of the world's data was created in the last two years. Trends indicate that figure could double every 18 months. It's a tsunami of data that Ard says professionals with competencies in data literacy, critical thinking, problem-solving, change adaptability, and project management are best equipped to tame.
"People have access to data, but they don't know what to do with it. Business professionals need to become more data literate so that we know how to leverage it to make informed decisions," he added.
Wake Forest alum Nilan Patel (BS '16) works as a senior associate in KPMG's business optimization practice and shared how the firm is using natural language processing for its financial services clients. He credited Wake Forest with providing him the skills to pivot seamlessly into a technology role.
"I didn't have the background in data or AI, but the curiosity allowed me to ask the right questions," he explained. "The coolest thing Wake provides you with is being able to ask questions, learn on the backend, and be able to apply yourself. The work ethic is a given at Wake Forest, and you really get to translate that into the workforce."
A number of students from the School helped execute the event and were led by Vibhav Kollu (MSA '19), who served as the student coordinator. He helped manage volunteer schedules and speaker introductions as part of his responsibilities.
"It was interesting to hear multiple perspectives about a variety of technologies," he said. "A lot of these business leaders flew in for the day, and I felt honored they would do that for us. It was cool to hear their perspectives. They've come from programs like us, and now they are doing very innovative things that most people wouldn't equate with accounting."
Innovation Weekend was presented in modules by subject, allowing attendees to select which topics aligned with their area of interest. Many students like Janelle Lewis (MSA '18) invested the time to listen to all nine presentations. A future auditor, she said that the lectures offered insight into what she will likely face with clients.
"One of the things I saw from all of these topics is it is less about the technology taking over and more about us adapting and having a more seamless relationship with it. Big data is huge in auditing. If we have the ability to access a larger degree of data, we can make auditing more seamless," she stated. "I recommend everyone go to this. From a networking standpoint, we are getting people from all the big four firms that are at the forefront of this information."
Vuncannon is a strategic communications and public relations professional based in Asheboro, N.C.