Faculty Experts at Wake Forest University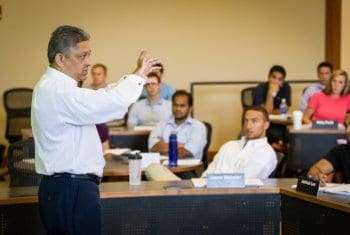 School of Business faculty members are outstanding teacher-scholars and understand what it takes to succeed in the business world. They know how academic theory relates to real-world conditions, and they are dedicated to sharing that practical dimension in class. They've worked for leading companies, followed their own entrepreneurial spirit to start successful businesses, consult regularly and have seen business in many forms, in many nations.
From peer-reviewed scholarly journals to mainstream magazines, the faculty experts and research staff at Wake Forest publish their findings in the world's most respected publications. Many develop cases, textbooks and other classroom materials, supporting the schoolwide emphasis on teaching excellence. The concept of balancing teaching and research demands is embraced at Wake Forest and acknowledged as an essential dynamic of an intellectually rigorous community.
Please use the following pages to consult our faculty directory, peruse their published research or contact a faculty expert as a journalistic source.