Meet the Executive Director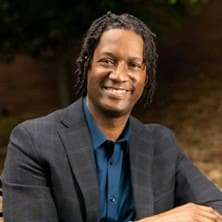 Roderick Lewis was appointed as the Executive Director of Diversity, Equity and Inclusion on September 1st. In his new position, Lewis spearheads the development and implementation of school-wide strategies to promote diversity, equity, and inclusion, geared toward fostering a global and inclusive community.
"Strategic, focused, and innovative DEI practices have the potential to create competitive advantage for Wake Forest University School of Business in continuing to foster an ecosystem that graduates future global leaders who will in turn provide competitive advantage to organizations through their ability to identify, assess, and minimize barriers that negatively impact vulnerable people internal to their organizations, and external to it," Lewis said.
With over two decades in both national and global education, Lewis brings a wealth of experience and knowledge to the School in diversity and inclusion strategies, corporate workforce analytics, and performance improvement.
He is recognized as an influential and innovative leader. One of his many impactful contributions includes the development of an "Anti-Racism & Gender Equality Scorecard," which aids career centers and their corporate partners in evaluating an organization's DEI efforts in order to improve practices that influence the inequities faced by historically disadvantaged groups.
Lewis facilitates collaborations within the School and across the University to develop and bolster a culture of inclusivity.
"Roderick brings a rich and varied set of skills and experiences that informs his passion for equity and inclusion, all of which will help ensure we are creating a robust environment for learning, teaching, and research that is inclusive of a broad range of perspectives," said Dean Annette L. Ranft. "His demonstrated expertise will be invaluable as we continue our work to create and sustain a learning environment characterized by belonging and respect for individuals from all backgrounds."
Prior to joining Wake Forest, Lewis served as the Executive Director for University Career Services at UNC Chapel Hill. In this role, he led the strategic initiatives to foster meaningful connections between students and employers, while also elevating the performance of the staff and refining office metrics, assessments, and campus-wide reporting tactics.
Additionally, Lewis is currently serving a 2-year term as the Director of Diversity and Inclusion for the Southern Association of Colleges and Employers where he leads crucial initiatives to educate SoACE members on best practices in DEI and elevate DEI leadership across the diverse range of jobs held by association members.
Lewis earned a bachelor's degree in electrical engineering from the University of Alabama, and an MBA from the Georgia Institute of Technology. He holds dual citizenship in the U.S. and Portugal.
Connect with Roderick at:
Email: rlewis@wfu.edu
LinkedIn:  https://www.linkedin.com/in/lewisrod/