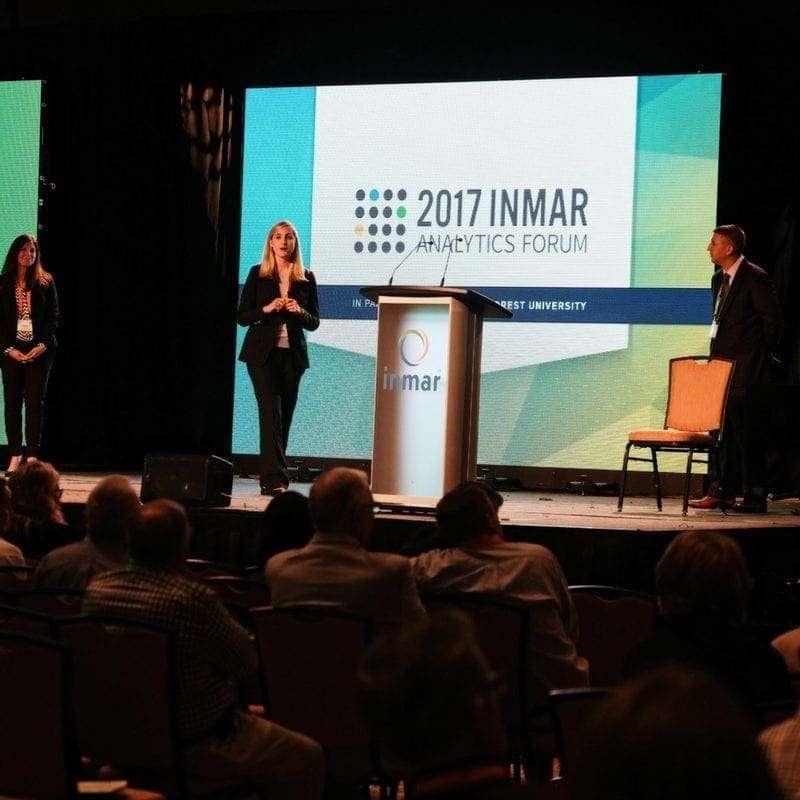 Students present business solutions to hundreds of industry experts at the Inmar Analytics Forum
WINSTON-SALEM, N.C., Sept. 14, 2017 – A team of MBA students from the Wake Forest University School of Business Winston-Salem Evening MBA program took first place in a student case competition featured during the Inmar Analytics Forum on Sept. 12, 2017.
With only ten days to work on the case, the students were challenged to empower consumers to make healthier choices for a fictional 500-store grocery chain, while positively impacting sales. They presented their business solutions before the hundreds of industry professionals attending the Inmar Analytics Forum. The attendees at this year's Forum represent the manufacturing, retail, healthcare, academia, and government industries.
"For the first time, this competition pitted five teams of students in the Charlotte and Winston-Salem MBA programs against each other. The teams had a playoff round on Sunday in Charlotte to determine the two finalists. We selected the best from each campus," said Roger Beahm, WestRock executive director of the School's Center for Retail Innovation. "What made this program even more unique is that we partnered with the School's M.S. in Business Analytics program to embed a student with specific data experience on each team."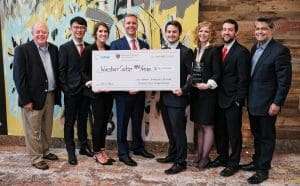 The MBA students are all working professionals, who balanced the demands of the case competition against their course work, full-time careers, and personal commitments. The first-place team of Alexis Gabard, Megan Smith, Daniel Orman, Jacob Horvat and Chuck Fort, all second year MBA students, and Oliver Yuan (MSBA '18) received a check for $15,000.
"It was a fantastic experience that gave us the opportunity to take all we've been learning in the classroom over the last year and apply it to a real-world business problem," said Jacob Horvat (MBA '18). "Our team was great at figuring out the strengths each of us brought to the competition and were able to divide and conquer through conference calls, weekend meetings, and excellent communication."
The second-year students on the Charlotte MBA team are Jaclyn Hartzell, Jon Easton, L.G. Hillebrand, Ashley McWilliams, and David Root along with Steffani Gomez (MSBA '18). They received a $10,000 prize for becoming finalists.
"Coming to Wake Forest and getting to do a case competition allowed me to apply the knowledge from my undergraduate computer science degree, and the skills I'm developing in the MSBA program," Gomez said. "Being able to present in front of all these industry professionals is an experience that rivals the prize money. You can't even put a price on that."
Inmar sponsored the case competition, and the company's CEO David Mounts announced the winners at a reception in the Benton Convention Center. "Wake is a hot school," Mounts said during his remarks. "The caliber of the students is wonderful. We've hired many Wake students. They are team players, have high character, possess an incredible work ethic, and they want to win."
A panel of judges determined the winners; Steve Anderson, president and CEO of the National Association of Chain Drugstores; John Kenlon, president, retail group Lebhar-Friedman, Inc.; and Diana Medina (MBA '14), director of e-commerce merchandising, Lowes Foods. The Forum attendees also served as a judge, voting via text at the end of the presentations.
"The case is very relevant. Retailers are looking to incorporate more offerings into their store space to cater to health-conscious consumers and help their customers have healthier lifestyles," said Medina.
"Data is critical; it's driving everything now. The pace of change in this sector: retail, food and grocery, mass and traditional drug, is at warp speed," Anderson said. "I've been dealing with food and drug companies for 37 years, and I've never seen more powerful changes than we're experiencing. We're really at an inflection point. Data is so vital. We find that anecdotal evidence doesn't work anymore with the consumer. The presentations that we heard at the Forum show the power of business analytics and data to ensure success for companies in the future."
The case competition was presented by the Wake Forest School of Business Center for Retail Innovation and sponsored by Inmar.
Media contact: Stephanie Skordas at skordas@wfu.edu or 336.758.4098.
View the photo gallery