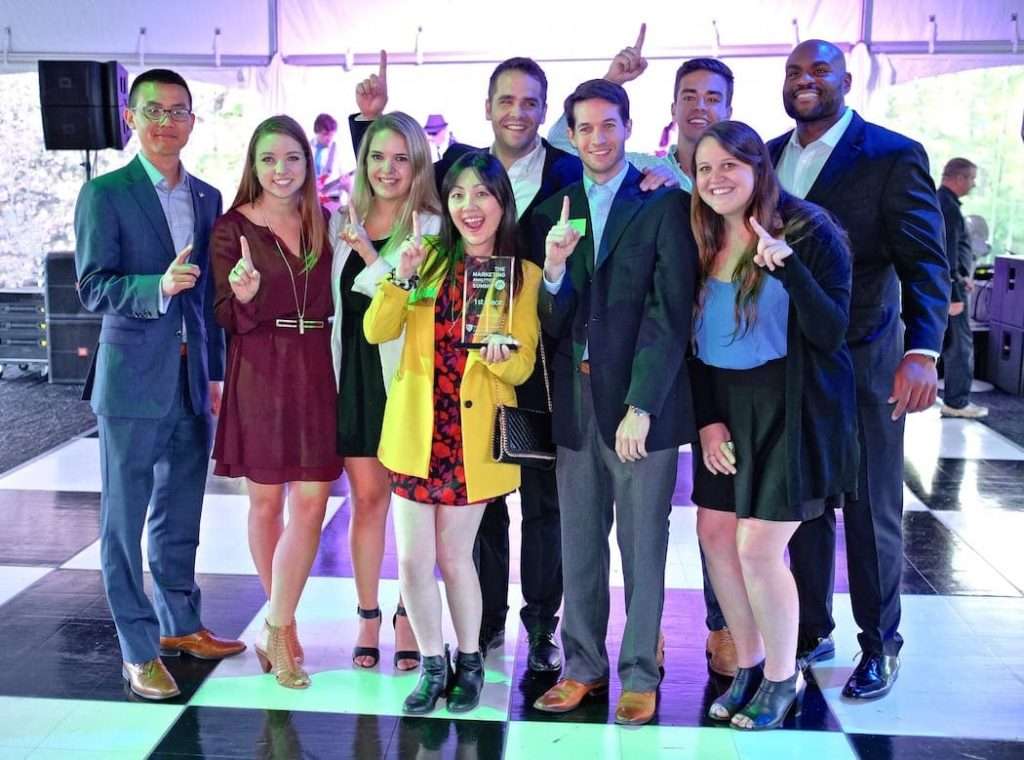 In a series of firsts, graduate and undergraduate Wake business students win this global case competition  
WINSTON-SALEM, NC – Exhibiting acumen in business analytics, communication, and collaborative skills, two teams from Wake Forest University School of Business swept the competition to place first in the Marketing Analytics Summit hosted by the School's Center for Retail Innovation. Eight graduate and six undergraduate teams from around the globe traveled to Winston-Salem for the two-day competition.
The Summit, in its 26th year, is the longest-running student-led event at the School of Business. This year's double Wake Forest win is a historic first. This is the second year the event has not only more fully integrated business analytics, but also run alongside the Inmar Analytics Forum. Held April 11-12, the competition offers $50,000 in total prizes. The focus on analytics comes as the School launches a new Master of Science in Business Analytics program, welcoming its inaugural class this July.
Wake Forest second-year MBAs Corrine Chia, Alex Ji, Patrick McGrath, Marlon Romulus and Michael Whitt won first place and a $20,000 prize in the graduate level competition. Michael Whitt was also selected from more than 40 individuals to be named the John Scarritt MBA MVP for his standout performance. Witt receives an additional $1,000. The Wake Forest graduate team last won the graduate marketing competition in 2004.
This year, the Wake graduate team won for its solution to presenting sponsor Inmar's business case, which asked teams to develop a strategy that enhances the consumer experience as it relates to healthcare, especially as it converges with retail. Their idea: a subscription wellness box combined with an integrated mobile app to encourage millennials' digital engagement with their healthcare.
The team presented their concepts to a judging panel of senior executives, and the nearly 700 attendees of the Inmar Analytics Forum. The Forum brings together business professionals from the promotion, healthcare and supply chain industries from top organizations around North America. The hundreds in the audience served as the competition's fifth judge, voting via text message.
"Each year we are seeing a growing need for students to know how to analyze data sets, extract the intelligence and formulate business insights from these analyses," said Roger Beahm, WestRock executive director of the School's Center for Retail Innovation. "Our annual Marketing Analytics Summit provides a unique opportunity for students to demonstrate this ability, receive recognition, and in some instances, be well rewarded for these skills. We're proud that our Wake Forest Center for Retail Innovation can be a global leader in this field of student competition."
"The Wake Forest team did an excellent job from start to finish. They set up the situation very clearly and established what their solution was right up front," said judge Whitney Hardy, vice president, marketing & enterprise branding at CVS Health. "Throughout their presentation they reinforced and were singularly focused on their solution. It was a strong delivery and a solid approach to a very real business challenge. They also brought innovation, thinking through ways to enhance experiences, especially for a millennial audience."
The Wake Forest undergraduate team of Emily Bandyk, Alyssa Norton, Ella Ryan, Michael Thomas, all senior business enterprise and management (BEM) majors, and Jack Troller, a junior majoring in finance, won first place in the undergraduate competition the first day of the Summit. With a prize of $10,000, the Wake Forest undergrad team also won the opportunity to present their innovative ideas at the Inmar Forum. Their solution focused on how multiple generations can interact with health information, therapy, and products through one loyalty program with a mobile app.
This is the ninth year that undergraduates have competed in the Summit, but the first time a Wake Forest undergrad team has won. "I'm especially proud of our team and the job they did with their presentation," said Ben King, professor of practice and the team's faculty advisor. "They worked hard to prepare for the stiff competition they faced this year."
"I'm surprised every year. The students always bring new ideas," said judge Bernie Hoecker, general manager, IBM global technology services. "Multiple universities from around the world come to the Summit, and the students offer new ideas, and fresh thoughts. The world's changing very quickly and I can truly say I'm surprised every single year by the breadth of ideas that these very bright students present."
The Washington University in St. Louis Olin School of Business team took second place and received an $8,000 prize.
The competition is run by student volunteers who spend months balancing classwork and competition planning and logistics. This year's co-chairs were Niki Makkinejad (MA '16), Caleb Marley ('16),  Ayana Stukes (MA '16), and Araba Taylor (MA '16).
Marley, a senior Wake Forest business and enterprise management major, is the first undergraduate student co-chair to help run the competition. "Chairing the competition presented me with an exciting opportunity to further develop my leadership skills. I found that I grew personally and professionally in the process," Marley said. "I drew on my classroom and internship experience as we worked to invite the best and brightest talent from around the world."
Dr. Haresh Gurnani, Benson-Pruitt Professor and Executive Director, Center of Retail innovation, served as the faculty supervisor for the case competition. The application and main cases for the graduate and undergraduate competitions were written by MA student Araba Taylor under his supervision.
"We developed a challenging case for the two teams in order to create the opportunity to solve a real-world issue," Gurnani said. "This case was interesting to collaborate on with our student co-chairs, and the different perspectives offered by all the competing teams showed the high-caliber talent the Marketing Analytics Summit draws to North Carolina from around the world."
Graduate teams included Brigham Young University Marriott School of Management, Hong Kong University of Science and Technology Business School, Michigan State University Broad Graduate School of Management, Penn State University Smeal College of Business, University of Rochester Simon Business School, University of Missouri-Kansas City Henry W. Bloch School of Management, Washington University in St. Louis Olin School of Business, and Wake Forest University School of Business.
The undergraduate teams represented Drexel University LeBow College of Business, University of Maryland Robert H. Smith School of Business, Universidad Panamericana IPADE Business School, University of Pennsylvania's The Wharton School, Utah State University Jon M. Huntsman School of Business, and Wake Forest University School of Business.
Speakers at the multi-day Inmar Analytics Forum include Larry Merlo, president and CEO of CVS Health, Ray Kurzweil, noted author and futurist, as well as numerous breakout sessions in three focus tracks: promotion analytics, supply chain analytics, and healthcare analytics. Also speaking at the conference are several School of Business faculty members:
Roger Beahm, executive director of the Center for Retail Innovation and professor of marketing
Jeff Camm, associate dean of Business Analytics and Inmar Presidential Chair in Business
Rick Harris, Sisel Faculty Fellow and professor of economics and finance
Kenny Herbst, Sisel Faculty Fellow and associate professor of marketing
To learn more about the Inmar Analytics Forum, please visit https://inmarforum.com, and to learn more about the Marketing Analytics Summit, please visit www.marketingsummitlive.com.